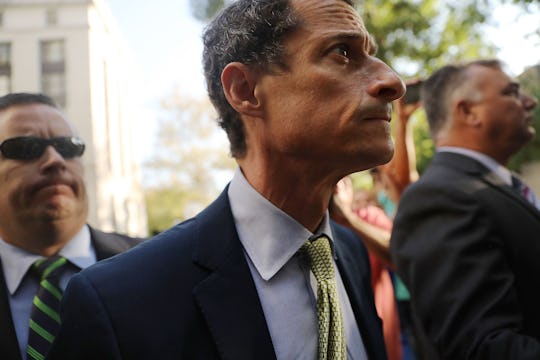 Spencer Platt/Getty Images News/Getty Images
Anthony Weiner Sentenced To 21 Months In Prison For Sexting An Underaged Girl
It's the latest chapter in the saga of a former U.S. congressman's dramatic and salacious fall from grace: On Monday, Anthony Weiner was sentenced to 21 months in prison for sexting a teenager. After pleading guilty to the charges against him back in May, Weiner will now trade in the political ambitions and acumen that once made him a rising star within the Democratic Party for a lifetime spot on the sex offender registry. It's an outcome that's been a long time coming, as the American public has witnessed the onetime New York City mayoral candidate's repeated scandals since 2011, embarrassing episodes that ultimately cost Weiner his credibility, his marriage, his career, and, now, his freedom.
For years, Weiner's repeated sexting scandals captivated the nation. But the crime for which he has just been sentenced represented the first known instance in which his conduct crossed over into the criminal. In September 2016, The Daily Mail reported that the now 53-year-old had messaged an unnamed North Carolina teen photos of himself shirtless and wearing boxers while knowing that she was a sophomore in high school. He had even allegedly asked her to undress for him, according to the Daily Mail report, which cited an interview with the unnamed teen.
At the time, he released at statement to the publication that seemed to concede some culpability:
I have repeatedly demonstrated terrible judgement about the people I have communicated with online and the things I have sent. I am filled with regret and heartbroken for those I have hurt.
To say that Weiner's judgement could not be worse would be the understatement of the decade. After initially securing his congressional seat to represent Brooklyn in 1999 and earning re-election six times, he catapulted, unflatteringly, into the national consciousness by accidentally tweeting out a photo of his own crotch, according to NBC News. Even though he initially claimed that his account had been hacked, he ultimately admitted that he had intended to send the photo to a woman who was not his wife and resigned from Congress. Two years later, his intended comeback to politics — a bid to become the mayor of New York City — crumbled when another sexting scandal exploded, according to NBC, this one centering 22-year-old Sydney Leathers.
At the time, Weiner read a statement at a press conference apologizing to his wife, Huma Abedin — a longtime Hillary Clinton aide then in the throes of working on the 2016 presidential election — and others affected, according to CBS News:
As I have said in the past, these things that I did were wrong and hurtful to my wife and caused us to go through challenges in our marriage that extended past my resignation from Congress. I want to again say that I am very sorry to anyone who was on the receiving end of these messages and the disruption that this has caused."
Still, remarkably, the worst was yet to come.
In August 2016, Weiner was reportedly investigated by Children's Services when new sexts that he had allegedly sent to a woman surfaced featuring his then-4-year-old son. The photos did not incorporate the boy into any type of sex act; rather, they reportedly showed him doing things such as napping alongside his father. Still, Abedin separated from him around that time. And when he pled guilty to transferring obscene material to a minor in May, she officially filed for divorce.
Abedin's decision to divorce Weiner was a long time coming, and not simply because he had been exchanging explicit messages with other women (and at least one minor) for years. That's because the FBI's investigation into Weiner's sexting led agents to discover correspondence between Clinton and Abedin that prompted the organization to resurrect the investigation into the Democratic candidate's use of a private email server. The public announcement of the reopening of the case, which ultimately did not alter the FBI's previous recommendation that she not be charged, is widely believed to have contributed to Clinton's stunning loss to Republican Donald Trump.
So, it's safe to say that pretty much everybody is mad at Anthony Weiner for one reason or another.
Watch Romper's new video series, Romper's Doula Diaries:
Check out the entire Romper's Doula Diaries series and other videos on Facebook and the Bustle app across Apple TV, Roku, and Amazon Fire TV.