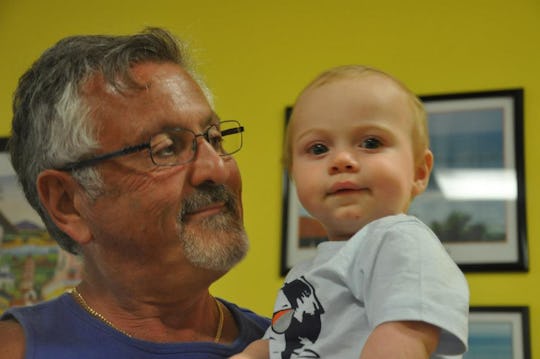 Photo courtesy of Jamie Kenney
12 Moms Share The Sweet Ways Their Fathers Changed After Becoming Grandpas
One of the cool things about having a kid is sharing them with those you love. I'm, fortunately, very close to my parents and always have been. But becoming a grandpa changed my father — not in any big, substantial way, but in a few subtle, small ways — and I have to admit that I've never been closer to him than I am now that I have children. Being a grandpa agrees with him. And, of course, he's not the only dad to have his life changed by the presence of a grandchild.
Romper asked other moms to share the sweet ways their fathers changed after becoming grandpas and, well, if you don't have tissues nearby, go ahead and grab some. I'll wait.
Case in point: a few days ago, my dad asked if he could buy my son, in his words, a "seven-million-piece Lego set." He described how cool it was, and how my kid could make anything he wanted. When I thanked him for the sweet gesture, but said that the last thing my 8-year-old kid needed was more Legos, I swear I could hear him pout through the phone. "You're no fun!" he replied.
Um, where's my dad? Because this man ain't him. My father was Mr. "No." Mr. "Ask Santa." Mr. "That's What Your Allowance Is For, But Really You Should Put All Your Money Into A Savings Account For Retirement And Yes I Know You're Only 7 But It's Never Too Early To Start." But as time and the elements can smooth even craggy mountains, so too can becoming a grandfather change dads. Need more proof? Read on.