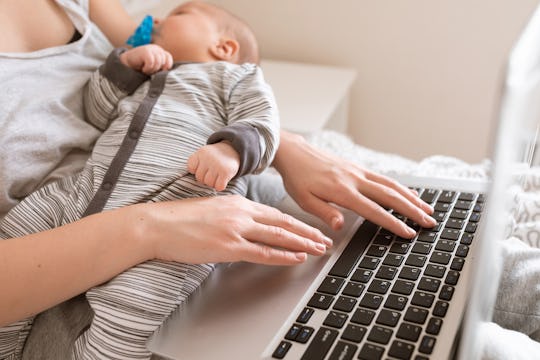 Shutterstock
Save On Faves From Baby Bjorn, Evenflo & More With Prime Day's Baby Gear Deals
There are so many different kinds of parents in the world. Target moms, Walmart dads, the list goes on. But for Prime Parents, it's the most wonderful time of the year. Prime Day is your Super Bowl, your chance to prove you are the ultimate online and discount shopper. Plus, Prime Day's baby gear deals are especially good this year, so new Prime Parents should definitely take advantage.
Whether you're pregnant or already had your little bundle of joy, I can almost guarantee there are baby items you need that Amazon can help you with. Sure, you got most of your must-haves at your baby shower, but there are definitely items from your registry people didn't buy, as well as things you most likely didn't know you needed. (Pro-tip: check out Romper's registry to see what you might be forgetting.) Look at Prime Day as your chance to get all the infant gear you need without breaking the bank.
Amazon has thousands of products that can make parenting easier, and there's no better time to take advantage of their seamless buying process than Prime Day. Check out some of the best deals on baby gear below, and hit up Romper's Prime Day Page for even more shopping inspo. Bonus: the event lasts 48 hours this year, so even if you forget something in your first round of shopping, there will still be time. Here's to you, Prime Parents.