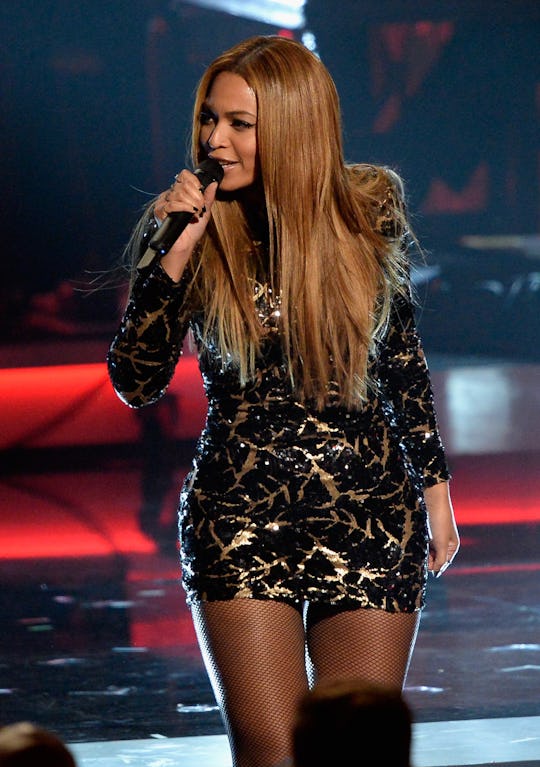 Kevork Djansezian/Getty Images Entertainment/Getty Images
Beyonce's Performance At The 2017 Grammys Was Fire
Being the recipient of the most Grammy nominations this year has its benefits, as does being rap royalty in general, so it wasn't super surprising to unofficially learn that Beyoncé would be performing at the Grammys this year. But Beyoncé's performance at the 2017 Grammys was still everything fans had hoped it would be. Although, according to TMZ, the newly pregnant queen of everything that has to do with music would be a little less crazy and a little more slowed down with her Grammys performance, she absolutely killed it on-stage.
Since the Grammys were also a roundabout way to celebrate Beyoncé's pregnancy with her first live show since the announcement that she's having twins this time around, you kind of expected her to take things slower. Not because she's a fragile and delicate flower just because she's pregnant — because Queen Bey is anything but that — but more so because her Lemonade album was personal and dramatic for a reason. Obviously we weren't going to get "Formation" or "Hold Up" since they've both been done at recent award shows but Beyoncé's performance at the 2017 Grammys with its tones of motherhood and celebration of her own womanhood was the perfect choice for the singer. But then again, Beyoncé could have sang "The Wheels On The Bus" and it would have been life changing.
Honestly, getting a performance from Beyoncé was a treat in itself, and even though she's a forever hot commodity, this is the same singer who was nominated for nine Grammys this year, and was featured in several different awards categories. So if she was too busy being fly and taking amazing pregnancy announcement photos, we would have all likely forgiven Beyoncé for skipping out on a monumental Grammy's performance. But who isn't grateful that the queen herself was able to perform at the 2017 Grammys?
Beyoncé's performance at the Grammys was like a mixture of feminism, religion, celebration of the female body, and artistry from Beyoncé that only she could do. Obviously it helped that she spent the performance with a halo-like crown and tons of female dancers gliding across the stage with her, but her performance was everything and more. There was a freaking hologram of a kid who looked like Blue Ivy running around her, for God's sake.
It was expected that the singer would be on-hand and in-house this year but when it was announced that Beyoncé would also be performing, you had to imagine that a few extra hundred thousand people decided to DVR the Girls season premiere for the night and instead tune into the Grammys live.