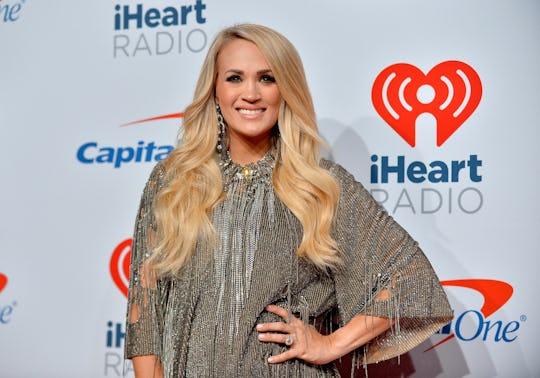 Sam Wasson/Getty Images Entertainment/Getty Images
Carrie Underwood Shows Off Her Adorable Baby Bump On Instagram
On Tuesday night, the biggest and brightest names in music and entertainment will take over the Microsoft Theater in Los Angeles for the 2018 American Music Awards. But before those artists walk the red carpet, they're hard at work preparing for the night's performances. That includes country superstar Carrie Underwood, who showed off her growing baby bump in a new Instagram post on Sunday, according to The Tennessean. The Nashville-based singer shared a picture of herself rehearsing for her AMA set, and fans are living for her pregnancy glow.
In the Instagram photo, Underwood is standing behind a microphone stand, with one hand around the mic and the other gripping its base. The country artist is wearing dark blue slim-fit jeans and a closely-fitted denim button-down tunic that's draped over her growing belly. Her blonde hair is up in a neat bun, her chin is titled down, and her eyes are downcast. Rays of yellow strobe lights cut across the dark background.
The photo, which has more than 465,000 likes as of Monday morning, captures a simple, still moment during Underwood's rehearsal for her American Music Awards performance Tuesday night. But even dressed down, the American Idol alum looks stunning — and her fans agree.
One Instagram user wrote in the comments, "So beautiful! Always look forward to your performances! Can't wait," while another commented, "You look fabulous darling! Cannot wait to meet your newest member of your family!" And one fan said of Underwood's photo:
You look like an angel here! You may be crazy [busy], crazy tired, but here you are standing alone on stage carrying the life God has blessed you with!! You look radiant.
Underwood's fans also took to social media to share their excitement about her apparent song choice for the AMAs, which kicks off Tuesday, Oct. 9 with a two-hour pre-show airing at 6 p.m. Eastern on ABC. The Nashville resident revealed in the hashtags of her Instagram caption that the track she plans to perform will be "Spinning Bottles" from her latest album, Cry Pretty.
But Underwood is not only performing during the 2018 AMAs — she could also walk away with an award. The "Before He Cheats" singer is up for Favorite Female Artist in the country category, according to People.
Underwood announced back in August that she's expecting her second child with her husband, former hockey pro Mike Fisher, in an adorable video she posted to her Instagram account. The country star, who's also mom to 3-year-old Isaiah, hasn't mentioned a specific due date, but given some clues — such as the fact that her Cry Pretty 360 tour launches in May 2019 — fans believe she will give birth around February or March of next year.
The pregnancy is not the only major development of the year for Underwood. Last month, the Cry Pretty artist received a star on the Hollywood Walk of Fame, and brought Isaiah and her husband to the ceremony, according to E! News. As heard in a video posted to Twitter, Underwood said during her speech at the ceremony:
How is this my life? How does a girl from Checotah, Oklahoma, end up with a star on the Hollywood Walk of Fame? I'll tell you how — belief. I've been so blessed to have… so many people who believed in me.
So many of Underwood's fans do believe in her, and next year is sure to bring more excitement — and dirty diapers — for the country superstar.