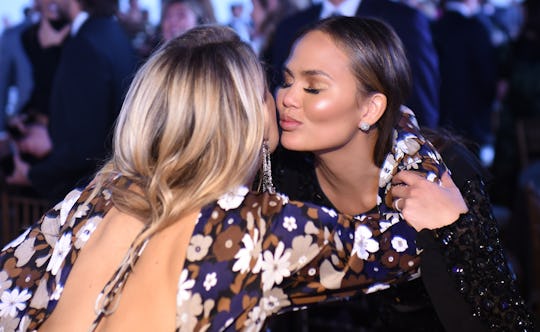 Dimitrios Kambouris/Getty Images Entertainment/Getty Images
Chrissy Teigen Says Celebrity Post-Baby Bodies Are An Unrealistic Privilege
Since giving birth to daughter Luna Simone Stephens back in April, model and Lip Sync Battle host Chrissy Teigen has been one of the most refreshingly honest celebrity moms on Twitter. Teigen's Tweets throughout her pregnancy and first few months of parenting have provided a hilarious-yet-brutally honest take on the difficulties of motherhood, even when you're famous. But in an interview with TODAY this week, Teigen said celebrity post-baby bodies are an unrealistic privilege for most moms and admits she has an advantage when it comes to losing the pregnancy pounds.
Anyone in the public eye, we have all the help we could ever need to be able to shed everything. So I think people get this jaded sensation that everybody's losing it so quickly, but we just happen to be the ones who are out there. ... We have nutritionists, we have dietitians, we have trainers, we have our own schedules, we have nannies. We have people who make it possible for us to get back into shape. But nobody should feel like that's normal, or like that's realistic.
Always candid about her struggles, Teigen also explained to TODAY the facet of motherhood she wishes would receive greater attention: postpartum depression, or PPD.
I think a lot of the mood stuff that happens afterwards isn't really talked about, whether it's postpartum depression or really just, for me, some days, I wouldn't know how to cope with work and juggle things and still have time for a husband life. And that was really tough for me ... There were periods where you get super dark.
Once again, Teigen is right: It's incredibly important to talk about your post-pregnancy moods and to share them with your doctor, regardless of whether you think you have postpartum depression or the baby blues. According to the American Psychological Association, one in seven new moms suffers from PPD in the year after giving birth — but only 15 percent of women with PPD ever receive professional treatment. Whether that's due to healthcare providers who don't screen for the condition or scared moms who don't report their symptoms because they fear having their child taken away or being called a bad mother, the fact that hundreds of thousands of families are at risk every year because of PPD is the reason why we need to talk about it.
Though Teigen using her celebrity status to talk about important issues (in between her entertaining social media posts, of course) is pretty freakin' cool, her commentary isn't always well-received — even if she's talking about something as simple as going out to dinner with her husband, singer-songwriter John Legend.
Teigen and Legend went on a date a little more than a week after Luna's birth, prompting haters to lash out at her online for daring to leave her daughter's side. Luckily, Teigen took the criticism in stride and engaged in a little trolling of her own: After one Twitter follower asked how Luna was doing, she playfully replied "I dunno I can't find her."
Teigen's also been shamed for choosing a female embryo while undergoing in vitro fertilization; for eating a bowl of Fruity Pebbles mixed with Captain Crunch (which sounds like the best cereal invention ever) in the first few months of her pregnancy; and for the way she held Luna when she was 6 months old.
After Donald Trump's victory in last week's presidential election — to which Teigen herself reacted with shock — I'm not sure I can come up with a reasonable explanation for anything anymore. Instead, let's just celebrate the hilarity that is Teigen's Twitter feed, which helps prove just how much an amazing mom she really is.