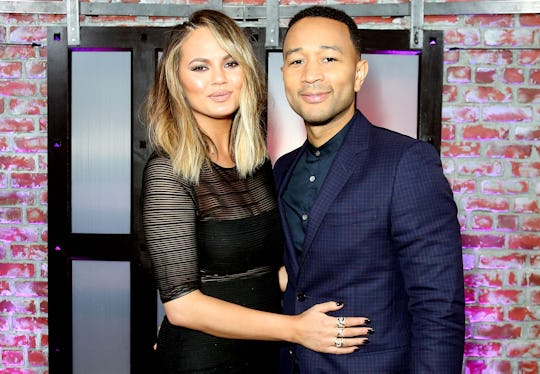 Rachel Murray/Getty Images Entertainment/Getty Images
Chrissy Teigen's Father's Day Instagram Is The Sweetest Thing Ever
Chrissy Teigen and John Legend are everybody's favorite celebrity couple for a reason: They are insanely adorable. And they cemented that status today, because Chrissy Teigen's Father's Day Instagram is the sweetest thing ever. It does feature the couple's baby girl, Luna, smiling her little head off in a holiday-appropriate onesie, but it's really a testament to Teigen's love and admiration for her husband as she thanks him for being a devoted dad to their daughter — one who "get[s] all the best burps."
Even before Luna was born in April, Teigen's hallmark has been to share her life with fans on social media. The supermodel and cookbook author publicly shut down haters who criticized her decision to conceive a female embryo via in vitro fertilization, and she pretty much became a national hero when the at menu her baby shower at Kim Kardashian's house featured McMuffins, Frosties, and Taco Bell. She also always remembers to send lots of social media love to R&B singer Legend, like the time he was a "DILF" with a baby carrier, and that other time she posted a video of Luna jamming out to her dad's 2013 song "The Beginning."
And in her latest Instagram post, Teigen is clearly feeling a little extra gushy about her husband, whom she says is the "most perfect man Luna and I could ever ask for." The full post is really a gem:
First, just look at Luna, who's only about two months old, in her "Happy Father's Day" onesie. She looks so happy and loved that you'd think it were her special day, but Teigen makes clear that Legend is very much deserving of a little extra love this June 19:
Happy Father's Day to the most perfect man Luna and I could ever ask for. Since the day she was born, you've done every bottle with me, woken up with me to keep me company through every night. You don't mind diapers, get all the best burps, and read her Goodnight Moon like poetry. It makes me so happy to see so much of you in her smile and eyes that completely glow when looking at you. She will never look at anyone - anyone - the way she looks at you.
OK, does it even get any cuter than that? Not only has Teigen shared the joy she feels in her family with the rest of us, but this post also contains some incredibly intimate details about how Legend, a 10-time Grammy winner, interacts with his newborn daughter. I mean, can you even imagine what Legend reading "Goodnight Moon" "like poetry" must sound like?
Teigen has lots of love for her in-laws, Luna's grandparents, as well. "Happy Father's Day to your father, Ron," she continues in the post's caption. "John is the amazing father he is because of you and Phyllis. You created and raised a man we are all so lucky to love."
In true Teigen fashion, though, she ends the post with some real talk:
Happy Father's Day from Luna and I, and thank you to game 7 for providing the real gift here and getting me out of having to plan and overthink the day phew
As this young family spend the day watching basketball — and Legend enjoys his first Father's Day as a dad — it's great for fans to see that they are going strong. Through her Twitter and Instagram accounts, Teigen has shown us over and over that she and Legend are so in love, with each other as well as with their new daughter. Happy Father's Day, John, and, Chrissy — keep us updated.