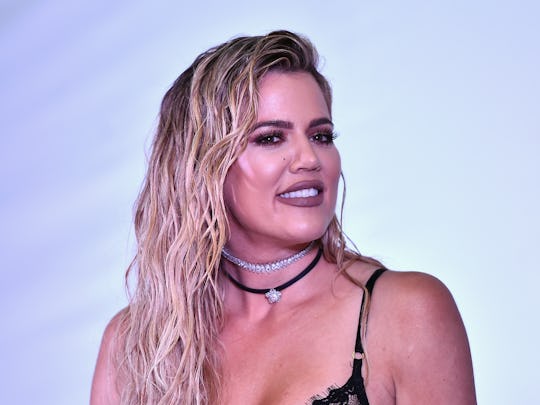 Alberto E. Rodriguez/Getty Images Entertainment/Getty Images
Every *Clue* About Khloé Kardashian's Due Date Hidden In Her Pregnancy Announcement
On a humble Wednesday evening (or afternoon, if you, like Khloé Kardashian, call Los Angeles home), the Good American designer and reality TV mogul made the announcement fans have basically been salivating with anticipation over for months: She's (officially) pregnant! The black-and-white Instagram photo of her bump, cradled in her hands and those of boyfriend Tristan Thompson, finally confirms that her "greatest dream" is about to come true — and fans are now, undoubtedly, dying to know when. Luckily, there's at least some notable "clues" about Khloé Kardashians due date nestled in her announcement to sustain another round of speculation.
Because, really, there has been some serious speculation since anonymous sources first began tipping the media off that Kardashian was expecting in late September. Now, we know for sure that Kardashian and Thompson have "been keeping this quiet" for some time as she wrote in her Instagram post. That means that she very well could have been 20 weeks pregnant in early October, as an anonymous source told Us Weekly later that month. That would mean she could be due as soon as February — just two months away. However, anonymous sources are just that.
Typically women announce their pregnancies sometime after the 12-week mark, because the risk of miscarriage is greater early on, according to Fit Pregnancy. So, if Kardashian really was 20 weeks pregnancy in early October, she would have been well past that milestone by the time the rumors started to circulate in late September. And that may have been when she first started to show, too. Yes, every woman carries her pregnancy differently and each bump size is uniquely its own, but according to Parents magazine, first-time pregnant women tend to show later than those who have had babies before, meaning they may not show until around 20 weeks.
Unfortunately, Kardashian didn't reveal when her bundle of joy is expected to arrive — not that she's expected to or should feel obligated to — so there is no concrete facts to say when her due date really is. But, if you listen to those sources, fans could expect her baby-to-be to make his or her debut in a matter of months.
Kardashian's announcement has certainly put at least one rumor to rest, though. Recently, fans have been convinced that Kardashian would eventually reveal her pregnancy in a photo as part of the family's ongoing Christmas card rollout, but were then super confused when her belly appeared totally bump-free in the photos in which she was featured. In the midst of all that, though, some fans became convinced that they had spotted a tell-tale pregnancy pillow in one of her Snapchats. To put it mildly, no one knew what the heck to think anymore... until the big unveil rocked Instagram Wednesday.
And it could not be more clear that everybody's favorite Aunt Koko is totally elated to become a mother. I mean, just check out the unalloyed joy that shows through by way of so. many. exclamation points. in the lengthy caption to her announcement post:
My greatest dream realized! We are having a baby! I had been waiting and wondering but God had a plan all along. He knew what He was doing. I simply had to trust in Him and be patient. I still at times can't believe that our love created life! Tristan, thank you for loving me the way that you do! Thank you for treating me like a Queen! Thank you for making me feel beautiful at all stages! Tristan, most of all, Thank you for making me a MOMMY!!! You have made this experience even more magical than I could have envisioned! I will never forget how wonderful you've been to me during this time! Thank you for making me so happy my love!
Thank you to everyone for the love and positive vibes! I know we've been keeping this quiet but we wanted to enjoy this between our family and close friends as long as we could privately. To enjoy our first precious moments just us ❤️ Thank you all for understanding. I am so thankful, excited, nervous, eager, overjoyed and scared all in one! But it's the best bundle of feelings I've ever felt in my life! ❤️❤️❤️
So, yes, there's definitely a baby on the way. But when will fans meet him or her? Kardashian hasn't shared that, but Twitter is certainly anxious to know:
So far, Kardashian has been silent, publicly, about the answer to this Very Important Question. Almost as silent, in fact, as her sister Kylie Jenner has been about the rumors that she's allegedly pregnant, too. Still, considering the fact the Kim Kardashian and Kanye West are expecting via surrogate sometime very, very soon, there's no doubt that, in no time at all, a whole new slew of Kardashian babies will be taking over your newsfeed.
Check out Romper's new video series, Romper's Doula Diaries:
Watch full episodes of Romper's Doula Diaries on Facebook Watch.