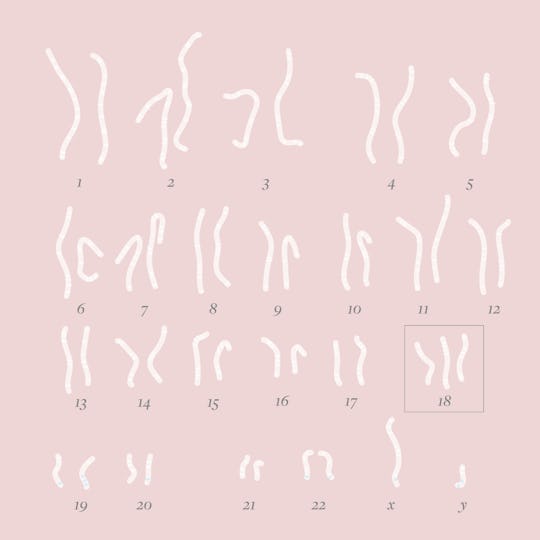 Courtesy of Caroline Wurtzel/Romper
Common Chromosomal Abnormalities That Can Cause Miscarriage
Miscarriage is an incredibly common experience that people don't often talk about. But pregnancy loss, particularly in early pregnancy, is not uncommon, and the majority of these miscarriages are caused by chromosomal abnormalities. Many people wait until after 12 weeks to tell anyone they're pregnant so they don't have to deal with the disappointment, grief, and platitudes from well-meaning friends in a public way, which can sometimes make the experience seem very lonely.
According to the American Pregnancy Association's website, 10 to 25 percent of pregnancies will end in miscarriage. Additionally, chromosomal abnormalities account for at least 60 percent of those losses, Bryan Cowan, MD, chair of the department of obstetrics and gynecology at the University of Mississippi Medical Center in Jackson, and a spokesperson for the American College of Obstetricians and Gynecologists, told Parenting.
A chromosomal abnormality essentially means that something is not right with the zygote's chromosomes, causing the fertilized egg not to implant at all, or causing the pregnant person's immune system to terminate the pregnancy. "Most chromosomal abnormalities are the cause of a damaged egg or sperm cell, or are due to a problem at the time that the zygote went through the division process," according to the American Pregnancy Association. There are two main types of chromosomal abnormality induced pregnancy loss, according to a chapter by Joe Leigh Simpson, MD and Sandra Ann Carson, MD in the Global Library of Women's Medicine.