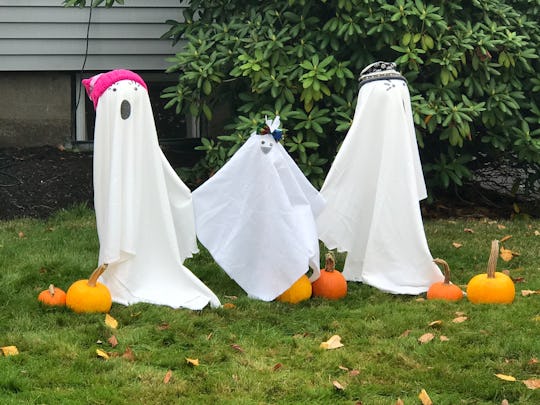 Rick Berkowitz/Photodisc/Getty Images
DIY Last-Minute Halloween Decorations That Are Still Full Of Spooky Spirit
So Halloween is... oh my God, is Halloween this weekend? Between the upcoming election, pandemic news, and, you know, 2020 in general, spooky season may have totally snuck up on you this year. Fortunately, there are plenty of last-minute DIY Halloween decorations online that you can recreate at home. Bonus points if you can limit your shopping trips to one store, or even reuse old decorations you already have around the house and give them new life.
There's no doubt you've seen all the hubbub about candy chutes, zip-lines, giant 12-foot-tall skeletons taking over front yards, and inflatable yard decorations of your favorite movie characters. (Hi, Oogie Boogie!) And with such a rough year, the world deserves to have some extra fun with Halloween this year. But if seeing Halloween on your calendar for this weekend provided your jump scare for the day, it may be a little late to order yard inflatables or build yourself a fancy trick-or-treat contraption.
As always, the bloggers of the world have you covered. There are tons of last-minute decor ideas — for indoor and outdoor Halloween scenes — that will help you get your house in the spirit quickly. Many of these are easy for the kiddos to help with, too, so everyone can have some fun getting in the spirit together.