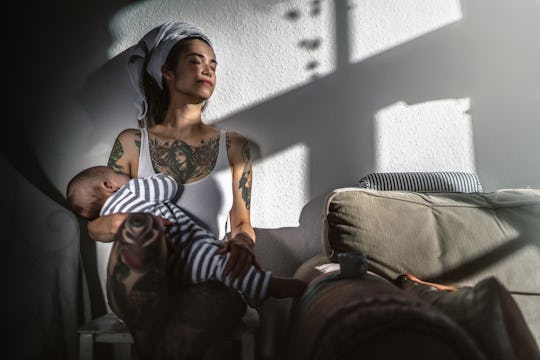 Westend61/Getty
Does Breastfeeding Make You Tired? Plus 5 Ways To Keep Your Energy Up
Being a mom makes you tired, but if you're a breastfeeding mom, you might find that you are even sleepier than usual. Obviously, being your child's only source of nourishment is especially exhausting when you're up every two hours, but does breastfeeding make you tired for another reason, too? There's a hormone involved in breastfeeding that may play a role in some of that sleepiness.
If you've ever darn near dozed off while breastfeeding, you're not alone. Turns out that breastfeeding does make you sleepy, for reasons other than being up all night or being extra comfy with your babe. Baby Center explained that, after you deliver your baby and placenta, your body triggers the release of a hormone called prolactin, and it's responsible for signaling your body to start making breast milk. But prolactin can cause something else — drowsiness.
Jason VanBennekom, MD, board-certified OB-GYN at Baptist Health, tells Romper in an interview that while prolactin doesn't affect the parts of the brain that control sleep, he can see why it might contribute to feeling drowsy.
"Most of the fatigue is related to altered sleep patterns in breastfeeding moms and the metabolic demands of producing breast milk. But, prolactin does have a direct role in reducing stress and anxiety. Oftentimes, the decrease in stress allows greater relaxation, and therefore could make someone feel sleepier, especially if already fatigued by lack of sleep during nighttime hours," he says.
"Prolactin seems to make a mother feel relaxed and sleepy, so she usually rests well even if she breastfeeds at night," adds Jessica Shepherd, MD, OB-GYN and partner with Happy V, in an interview with Romper. "More prolactin is produced at night, so breastfeeding at night is especially helpful for keeping up the milk supply."
Although falling asleep while nursing can be a sweet, tender moment, it's not always feasible or safe. Fortunately, there are plenty of ways you can keep your energy up while breastfeeding. In fact, some of these you can even do while your baby eats, helping you to stay even more alert during those cozy sessions.