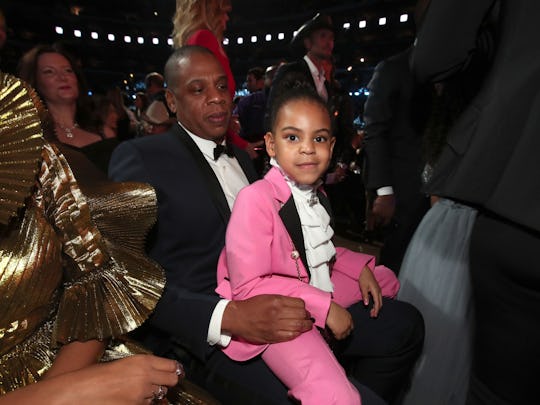 Christopher Polk/Getty Images Entertainment/Getty Images
You Heard Right: JAY-Z Mentions Rumi & Sir On '4:44'
It was been a crazy busy month for the Carter family. In June, Beyoncé gave birth to twins and then just when everyone was getting used to the great news, JAY-Z dropped his 13th album. Critics are calling the album one of the rapper's most personal yet. He talks about his marriage, his mother, and Blue Ivy. But what about the new additions? Fans were losing it this weekend when they heard that JAY-Z mentioned Rumi and Sir on 4:44. Not by name, of course.
In the title track, "4:44," JAY-Z addresses the alleged infidelities and troubles he and Beyoncé had throughout the past few years. The track is essentially his side of the Lemonade story, in a way. He raps:
Look, I apologize, often womanize/Took for my child to be born/See through a woman's eyes/Took for these natural twins to believe in miracles/Took me too long for this song/I don't deserve you.
You can see why they call it a personal album. Later, the new father also addresses Beyoncé's miscarriages, implying that it was somehow his fault for not being entirely present. He raps, "I apologize for all the stillborns/Cause I wasn't present, your body wouldn't accept it." Learning how to be a parent and a partner is a big part of this album.
That's the only time JAY-Z mentions the twins, but when you consider that he calls them "miracles," it's a pretty good reference. The couple has still not released pictures of the twins or confirmed the names. The names were made public when media organizations were able to get them from trademark documents the Carter family filed on their behalf. Yes, Bey and JAY trademarked the twins names (and also Blue Ivy's), so that no one can take advantage of their famous parents and use their name on unofficial merchandise.
The couple may have been through some tough things together, but they are always savvy when it comes to business.
According to anonymous sources and an announcement from Matthew Knowles, the family welcomed the twins on June 12 and then spent some time in the neonatal intensive care unit, since they were reportedly born a little prematurely. Again, no one knows exactly what the family is up to, though JAY-Z has been spotted taking in SoulCycle classes and Bey's mom, Tina Knowles, was spotted at the Malibu compound the couple is reportedly renting through the summer.
Between the release of this personal album for JAY and the new babies, the family really is starting a whole new chapter. Who knows what they'll get up to next? Fans definitely can't wait to see.