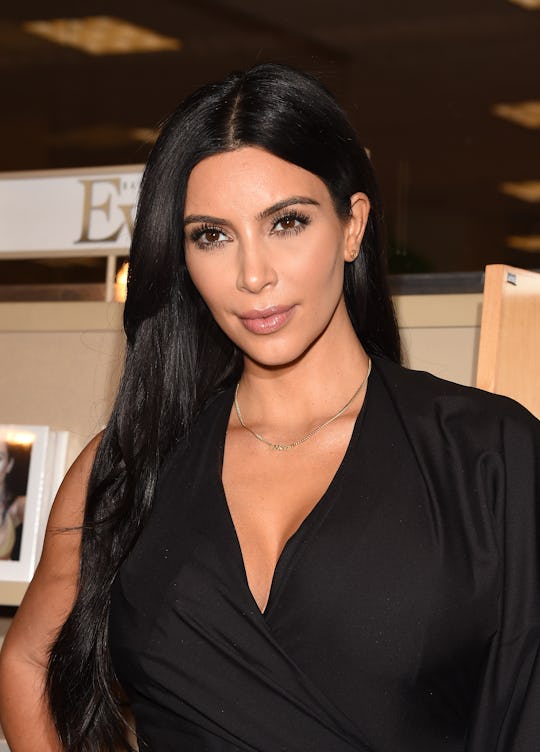 Jason Merritt/Getty Images)
Does Kim Kardashian Talk To O.J. Simpson? She Hasn't Exactly Kept In Touch Over The Years
Before she was a mother, (arguably) one of the most famous women in the world, and Kanye West's muse, Kim Kardashian was just the daughter of high-powered defense lawyer Robert Kardashian; notorious for his defense of O.J. Simpson, a former NFL star and family friend who was tried and acquitted of killing his wife, Nicole Brown Simpson. The trial is currently being depicted on FX's The People v. O.J. Simpson: American Crime Story, which begs the question: Does Kim Kardashian still talk to O.J. Simpson?
Prior to Nicole's death, the Kardashian and Simpson families were extremely close. Kris Jenner (who was previously married to Robert Kardashian) even considered Nicole her best friend, and later detailed some fears and concerns Nicole allegedly had about Simpson. In an interview with ABC News last fall, Jenner claimed, "The one thing she would tell all of us by the time, you know, it got to that level was, 'He's going to kill me and he's going to get away with it.'" Romper has reached out to Simpson's legal team for comment and is awaiting a response.
The guilt, the trial, and Simpson's subsequent behavior reportedly strained (and eventually ended) any semblance of a relationship between the Kardashian matriarch and Simpson, which inevitably ended any relationship Simpson would (or could) have had with the Kardashian children. At the time of the 1995 trial, Kardashian herself was only 15 years old — old enough to understand what was going on but still young enough to not be included in heartbreaking, complicated conversations about a controversial murder and judicial process.
And while Kardashian now reaps the very lucrative benefits of being "famous for being famous", she doesn't speak or keep in contact with the man who was notoriously found not guilty, and arguably gave birth to the 24 hours news cycle. Many attribute the Simpson trial to the eventual success and (for some) infatuation with the Kardashian family, but that doesn't mean Kim continues to speak with Simpson. Frankly, she doesn't need (and probably doesn't want) him to remain relevant in order to keep her name in headlines and her face on magazine covers.
Kardashian is portrayed in the FX series by Veronica Galvez. But other than a few appearances as children, a quick cameo by Khloe and Kourtney Kardashian and a disturbing moment that detailed Simpson's alleged threat of suicide in young Kardashian's bedroom in 1994, Kardashian and her siblings are removed from the show.
If you ask me, I'd say it's for the best. I can't imagine the vast and unapolgetic range of emotions the show brings up for the Kardashian family. Not only is it a painful reminder that a close family friend may have allegedly killed his wife, it is a reminder of a father that is no longer with them. Whether the public agreed with Robert Kardashian and the way he defended Simpson makes no difference to the family he left behind.
Besides — I don't think Kim Kardashian is going to spend her time at Lovelock Correctional Facility in Nevada, where O.J. Simpson is currently serving a 33-year prison sentence for multiple felonies, including armed robbery and kidnapping. That just doesn't quite seem to be her style.