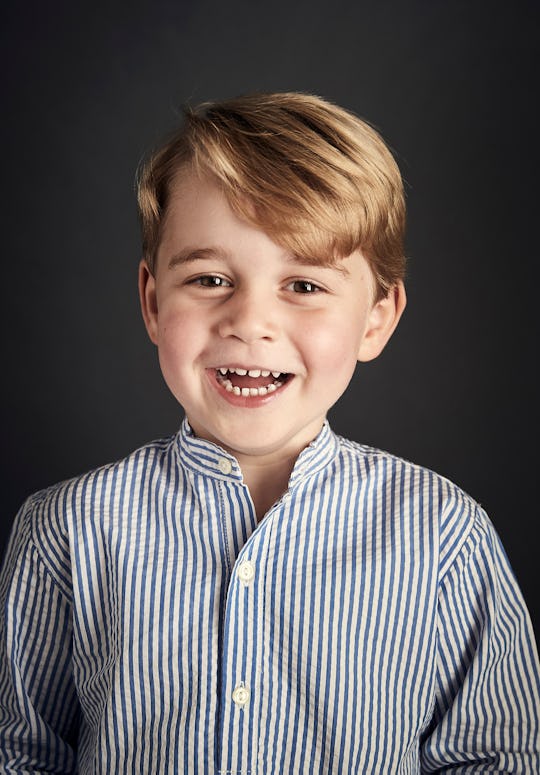 Handout/Getty Images Entertainment/Getty Images
Prince George Is The Spitting Image Of Kate Middleton's Father & These Photos Prove It
Almost immediately after a baby is born, people start to get really curious about to who the little one looks like the most. Sometimes it's mom, sometimes it's dad, and sometimes, especially in the case of a certain royal child, it could very well be his grandfather. So, if you ever wondered if Prince George looks like Kate Middleton's father, Michael Middleton, you certainly wouldn't be the first one to make the connection. The 4-year-old royal kiddo certainly takes after his maternal grandfather, but he still carries on plenty of traits from both of his parents.
As with the birth of all royal babies, most people were just so excited that Middleton and Prince William's first child, Prince George, had officially arrived, happy and healthy on July 22, 2013, after months of anticipation. But now that the little prince has grown over the past few years (he'll turn 5 years old this summer) and has given fans so many sweet memories along the way, royal fans have started noticing that he bears a striking resemblance to his grandfather, Michael Middleton, and that certainly isn't a bad thing. As the Daily Mail described the matching looks back in 2015, "They share the same twinkling eyes, engaging smile and Middleton button nose. And the good news is that Mr Middleton still has all his hair at 65."
Obviously, looks aren't everything, but you've got to admit that both Prince George and Grandpa Middleton have great hair.
WPA Pool/Getty Images Entertainment/Getty Images
Danny E. Martindale/Getty Images Entertainment/Getty Images
Of course, it's more than just the hair. Both guys also have the same sweet smile and wide-set eyes.
Handout/Getty Images Entertainment/Getty Images
Chris Jackson/Getty Images Entertainment/Getty Images
So, yeah, Prince George definitely looks like Middleton's father, but he also takes after his own parents in plenty of ways. For instance, while his thick hair might come from the Middleton side, the golden blonde hue seems to be all Prince William.
While 1-month-old Prince Louis hasn't really been given enough time to let his features be defined yet, many people seem to agree that Princess Charlotte looks remarkably like her great-grandmother, Queen Elizabeth II. Seriously, if you look and compare photos of a young Queen Elizabeth with photos of the adorable 3-year-old, it becomes blatantly obvious who the princess takes after.
Perhaps the newborn prince will look like his uncle, Prince Harry. Really, it's anyone's guess at this point since his parents haven't really taken him out in public much since he was born, which is completely understandable. For now, though, the world just gets to watch and admire the two older siblings, Prince George and Princess Charlotte. Which is really quite easy to do when they were both such show-stoppers at the royal wedding of Meghan Markle and Prince Harry.
In case you missed it, both toddlers were pretty darn adorable on Saturday, May 19, and each in their own way. For instance, it's been reported that Princess Charlotte was not afraid to take charge of her fellow bridesmaids and keep them all in line so as not to mess up the bridal procession. Prince George, on the other hand, showed his caring side, according to Harper's Bazaar. Perhaps taking after his grandfather in another way, the 4-year-old reportedly comforted a crying young bridesmaid. Royal correspondent Emily Andrews told Harper's Bazaar:
It was only a couple of minutes. So Nanny Maria Borrallo kind of looked after her, and George apparently was trying to comfort her as well, which is very sweet.
The young royals are clearly going to be fine and kind people as they get older, regardless of who they look like. And, really, it's already been such a fun ride to watch them all grow up before our eyes — and make these connections!