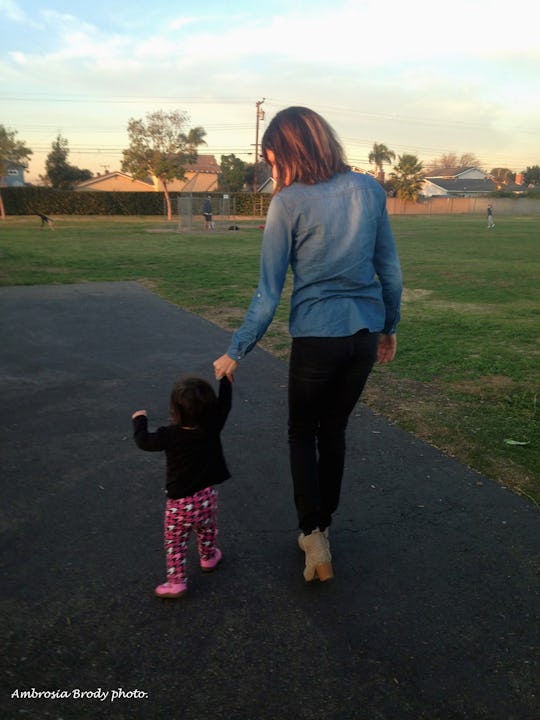 Courtesy of Ambrosia Brody
Don't Worry, Neighbors, The Kids Aren't Screaming – It's Me
Parenting little people can be frustrating, to say the least. Dealing with stubborn kids who have no qualms about vocalizing all of their wants and needs is tiresome, and yes, sometimes I do raise my voice when I've run out of patience. I know my neighbors might hear loud sounds coming from our house every now and again, which might cause them to think our kids are terrors or that we aren't doing a great job as parents. So it's time for me to address those concerns. Don't worry, neighbors, the kids aren't screaming – actually, it's me.
Sometimes, I get tired and frustrated, so I'm not always that cool and calm parent I would like to be. That's why most of the time, if you hear a booming voice resounding from my house, it's not my kids throwing a tantrum or coming to blows over some minor issue — it's usually me, shrieking at them to stop grabbing the dog's tails or to get out of my makeup box or to put some clothes on, for God's sake. Here are 11 things I might be screaming at any given time:
"Put Some Clothes On!"
Why are kids obsessed with nudity? Do they love shocking their parents by stripping off their clothes and running around the house nude? I don't know, but my girls are fascinated with getting naked. I mean, it's funny when you turn around and a little booty is flashing you, but there's a time and a place for that stuff and dinnertime is not the right time. Frequently, if you walk by my house, you'll likely hear me screaming things like, "Stop touching each other's butts!," because my girls like to chase each other naked and pretend they are playing the drums on one another's backsides.
"Shake It, Girls!"
I love having dance parties with my girls. We will crank up the music on my iPhone —usually Taylor Swift or Gwen Stefani – and just dance.
"You Got Into My Makeup Again?!?"
I used to be able to keep my makeup and nail polish out of my daughters' reach, but now that they are taller they can easily access my makeup drawer. And they do – quite often. If I don't close the door to our bedroom, they will sneak into the bathroom, open the makeup drawer, pull out my eye shadow, nail polish and lipsticks and go to town bedazzling each other. "You got into my makeup again?!" I'll exclaim before grabbing a makeup wipe and smearing it off their faces. The moral of the story is, I probably need to start closing my bedroom door.
"Let Your Sister Go!"
"Stop pulling your sister's hair!" and "Let her go, now!" are two phrases I yell daily. My youngest daughter has officially entered her terrible twos, and she can switch from sweet as pie to terrifying in two seconds. Often, she will pull her sister's hair or grab her in a death grip, at which point I have to pull her off and send her to timeout. It doesn't matter if she's actually trying to give her a bear hug. We keep our hands to ourselves in our household.
"If You're Going To Use My Stuff, You Better Put It Back Where It Belongs!"
The girls love getting into my closet and trying on my heels, boots, and flats. It's actually pretty cute to watch them walking around in my shoes, but they never put anything away, which means there's always another mess for me to pick up. So I usually spend 10 minutes picking up a trail of shoes and hats in the hallway, like they're Hansel and Gretel and I'm the witch following their trail of breadcrumbs.
"Stop Jumping On The Couch!"
"Stop jumping on the couch, or you're going to break something and we're going to have to take you to the hospital!" is the threat I use when I catch my daughters jumping from the couch onto a bed of pillows they arranged on the floor. They're also fond of running or jumping onto the couch, just to make my heart race. They're like miniature Parkour enthusiasts.
"Get Away From The Dog's Butt, Now!"
Unfortunately, I have to tell my kids this on daily basis. Our dogs have little nubs for tails, so trying to grab their tails basically means getting really close to touching their butts. Yet the kids go for it, especially the little one. She'll chase them around the house or pet them before trying to pull their tails. We watch her fairly closely, so she has yet to actually succeed, but there have been some close calls. I'm hoping she grows out of it, or else I'll be really concerned.
"What Is Happening?!?!?"
If everyone is yelling or crying or throwing an epic tantrum for some unknown reason, and I have no idea what to do, sometimes I'll shout "What is happening?!" or "please calm down" in the hopes of reining in the chaos. Does it work? Rarely. As most moms know, sometimes, it's just best to let them throw their tantrums.
"Come Quick, There's Something Up Her Nose!"
A few months ago, my youngest daughter started rubbing her left nostril during dinner. It took me a few seconds to put it all together, but I eventually figured it out: nose-rubbing + black beans for dinner = bean up the nose. To be fair, I really shouldn't have been that shocked, since our oldest daughter did something similar when she was about 2 years old (except that time, it was a piece of macaroni and cheese). But it freaked me out nonetheless.
"Oh, My God, There's Another Bean!"
Yup, as it turned out, there was another bean up her other nostril at the same time. It was there for at least 10 minutes before she eventually revealed its location. My daughter is nothing if not a master of discretion.
"It's Quiet. Too Quiet."
In my household, silence usually means something is about to go down. Once I caught the little one drawing in crayon on the wall, and another time they were undoing all the laundry I had just folded. So when it's way too quiet and the house is mellow, I'll call out to them: "What are you girls doing?" If the answer is "Nothing," I'll follow up with, "Tell me what you're up to please." 9 times out of 10, the answer will be something like, "Oh, nothing, just taking all the books out of the shelf one by one," or "Sissy is eating Play-Doh, that's all."
So neighbors, if you were under the impression this whole time that the loud voices you hear drifting from my house into yours are those of my kids screaming their little lungs out, I'd like to politely inform you that you're wrong: it's actually me. But don't worry. If you listen closely, I'm sure you'll hear the sounds of my daughters laughing as they jump on the couch (naked), or grab the dogs' tails (naked), or shove beans up their noses (naked). Sometimes I yell, but that doesn't mean we're not having a good time. There's no need to be concerned. I promise.