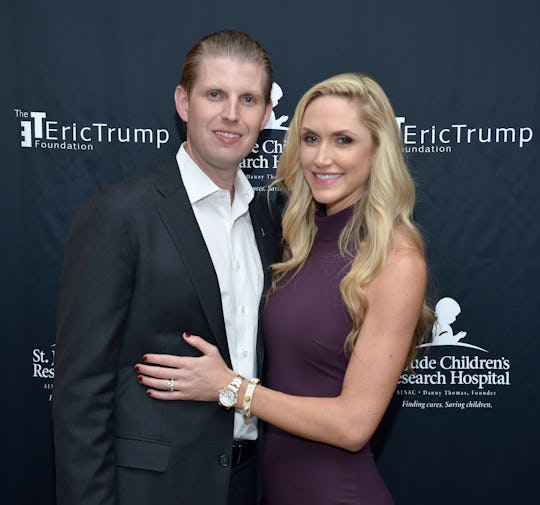 Grant Lamos IV/Getty Images Entertainment/Getty Images
Eric & Lara Trump Are Expecting Their First Child
As President Donald Trump's influence on domestic and international affairs only continues to grow, so does his family. On Monday, People magazine reported that the president's son and daughter-in-law, Eric and Lara Trump, are expecting their first child. If all goes according plan, the couple will welcome a little boy in September.
In announcing their big news, the couple revealed that Lara is in her second trimester and that they actually found out about the pregnancy on Jan. 6, the day Eric turned 33. And they decided that they could not keep it a secret from the public any longer, in part because Trump was so excited about the news that "we were worried he'd blurt it out at a press conference," Lara, also 33, told People.
But now that the information is public, the president is free to take to his favorite form of communication, Twitter, to celebrate the upcoming birth of his ninth grandchild. Even if he's excited, it's hard to believe he's surprised: The second Trump son married Lara Yunaska, a former Inside Edition producer, in 2014. And Lara told People that she "always wanted to have kids someday."
Eric, on the other hand, has been the "cool uncle" to his siblings' kids, she said. Donald Trump's oldest son, Donald Jr., has five kids with his wife, Vanessa Haydon. In addition, Eric's older sister Ivanka and brother-law Jared Kushner have three young ones of their own. The trio's younger half-sister, Tiffany, is 23 years old and is not married and does not have any kids. Eleven-year-old Barron Trump, who is the only child Donald Trump shares with his current wife, Melania Trump, is closer in age with his half-siblings' kids than he is with Donald Jr., Ivanka, or Eric.
Eric and Lara dated for six years before their 2014 wedding at what the president has now dubbed the "southern White House:" his Mar-a-Lago estate in Palm Beach, Florida. At the time, Lara's miniature beagle, Charlie, served as the ring bearer. Now, she joked with People, she's realizing that she would actually like to name her firstborn Charlie, if she hadn't already given the name to her dog.
Amid rampant and serious questions about conflicts of interest associated with being president and in charge of a sprawling, international real estate empire, Donald Trump transferred his business to his two older sons. Shortly after his inauguration in January The Miami Herald reported that he had ceded control over — but not ownership of — his hotel empire to Eric. Eric Trump is also the executive vice president of the Trump Organization.
The soon-to-be dad faced public criticism in early February when a business trip to Uruguay he took in that capacity reportedly cost taxpayers nearly $100,000 in hotel bills for Secret Service and embassy staff, according to The Washington Post.
Perhaps the new addition to his family will encourage him to stay home and keep the spending of taxpayer dollars to a minimum.