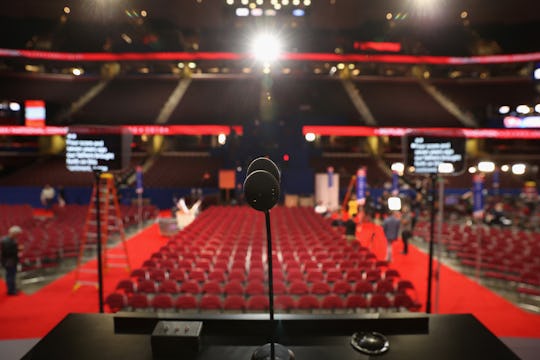 John Moore/Getty Images News/Getty Images
Here's Who Won't Speak At The Republican National Convention (There Are A Few Big Names)
Over the course of the three-day Republican National Convention in Cleveland starting Monday, the party all but certainly will confirm Donald Trump as its presidential nominee. And some high-profile Republicans are still pinching themselves, hoping to wake up from a decidedly bad dream. Even though the business tycoon and former reality TV star has selected establishment darling Indiana Gov. Mike Pence as his running mate in an effort to legitimize his campaign and woo conservatives critical of his many wishy-washy stances, some clearly aren't convinced. A few big names won't speak at the Republican National Convention, showing just how chagrined many are over his ascension to the highest echelons of the GOP.
Despite Trump's divisive candidacy and inflammatory rhetoric, some party leaders will be among the approximately 60 speakers throwing their support behind Trump this week — including House Speaker Paul Ryan, who very, very reluctantly endorsed Trump once all his opponents had dropped out of the race. One of those former opponents, Texas Sen. Cruz, recently slammed Trump as a "pathological liar" who's "utterly amoral." But he's also scheduled to speak in Cleveland.
Other scheduled speakers, like Trump's four adult children and his current wife, are likely more willing participants. Many Republican politicians aren't even planning to show, though, and they're not shy about the reasons why: "Sen. Sasse will not be attending the convention and will instead take his kids to watch some dumpster fires across the state, all of which enjoy more popularity than the current front-runners," a spokesperson for Nebraska Sen. Ben Sasse told The Hill, for example.
Ouch. Although we don't know whether the GOP elite skipping the convention will join the senator in his dumpster fire tour, they are airing their own silent protests by avoiding the podium.
John McCain
Arizona Sen. John McCain matched up against Barack Obama for the presidency in 2008, but he won't make it to the Republican National Convention this year, let alone give a speech. In making decision not to do so, McCain is likely remembering one of Trump's own speeches, when last year he mocked McCain's status as a war hero because he spent five years as a prisoner of war in Vietnam. "He's a war hero 'cause he was captured," Trump said at the time. "I like people who weren't captured, OK?"
Marco Rubio
Unlike Cruz, Florida Sen. Marco Rubio is a former Trump opponent who won't speak at the convention, or even attend. Although Rubio did endorse Trump after leaving the race, he is absolutely not a fan of the man who has dubbed him "Lil' Marco." The two repeatedly (and pettily) sparred on the debate stage, and Rubio publicly struggled with the prospect of potentially supporting Trump over Democratic candidate Hillary Clinton, both of who he evidently abhors.
"I still at this moment continue to intend to support the Republican nominee," he said at a news conference shortly before leaving the race. "But — getting harder every day." Rubio's camp claimed to The Hill that the senator was simply focusing his efforts on winning congressional reelection, of course. But we all know better, don't we?
Mitt Romney
The Hill reported that 2012 Republican presidential nominee Mitt Romney will be playing with his grandchildren and (probably) desperately wishing his party weren't shoring up its allegiance to Trump in Cleveland. In June, he solidified the fact that he will never, ever endorse the presumptive nominee during an interview with CNN's Wolf Blitzer, condemning what he views as Trump's racist rhetoric:
I don't want to see trickle-down racism. I don't want to see a president of the United States saying things which change the character of the generations of Americans that are following. Presidents have an impact on the nature of our nation, and trickle-down racism, trickle-down bigotry, trickle-down misogyny, all these things are extraordinarily dangerous to the heart and character of America.
George H.W. Bush and George W. Bush
The father-son duo of former presidents George H.W. Bush and George W. Bush announced in May — right after Cruz dropped out of the race and Trump became the presumptive nominee — that they wouldn't endorse him for president. They're two men who have the ultimate firsthand insight into the challenges Trump will face as president — and obviously don't think he's up for the job.
John Kasich
Onetime Trump opponent Gov. John Kasich is the most powerful politician in Ohio, the state where the RNC will take place this. And he'll make history as the first governor of a state hosting the his party's convention not to support the nominee, NBC News reported. Instead, he'll speak at the NAACP's annual gathering in Cincinnati.
The nation will be watching Cleveland during the next few days. Even though some GOP leaders won't attend the convention or deliver speeches to the crowds there, I'm willing to bet they'll be diligently tracking the developments too, regardless of their current plans.