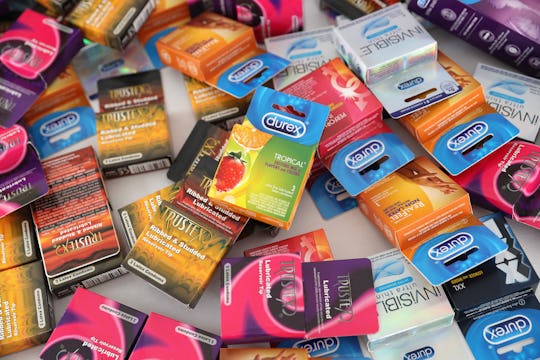 Chris Jackson/Getty Images Entertainment/Getty Images
Lack Of Contraception Access Affects Mothers Worldwide
As safe and legal abortion becomes increasingly difficult to access in the United States under a Republican-controlled White House and legislature, the same is true in other countries. And, just as in the United States, that's thanks to the anti-abortion ideals of President Donald Trump's administration. The result of this outlook will hugely knock women's overall access to comprehensive reproductive care, not just by restricting access to the procedure, but by curtailing the use of vital contraceptives as well. And a lack of contraception access affects mothers abroad — even the very economies of their countries — in an incredibly negative (and preventable) way.
In the early days of his presidency, Trump signed an executive order to reinstate the global gag rule — and it's just as nefarious as it sounds. The mandate prohibits international organizations that benefit from U.S. government dollars from even presenting the procedure to patients as an option. As a result, family planning partners of the United States Agency for International Development (USAID) that refuse to comply will lose their federal funding. The result is actually more unsafe abortions needed globally, increased maternal mortality, and a whole slew of other avoidable outcomes.
We know this because history show us: The global gag rule was first established by President Ronald Reagan in 1984, and it has been reversed by Democratic presidents and reinstated by Republicans ever since.
One of the most striking effects of the global gag rule is the slashed access to contraceptives, which happens after the gag is once again implemented. According to the Center for American Progress, organizations that opt to comply with the gag in order to retain their government funds cannot legally inform patients about abortion, perform the abortions themselves, or provide referrals to entities that can. And the those that refuse — like Marie Stopes International (MSI) and the International Planned Parenthood Federation — lose not only the funding, but donated contraceptives like condoms as well.
What's more, the slashing of these entities' budgets leads to a necessary constriction of family planning services and even clinic closures, BuzzFeed News reported. The result? Fewer resources to help women with family planning, including dramatically weakened infrastructure that gets contraceptives to women abroad who desperately need it. So, MSI predicts that, between 2017 and 2020, the Trump iteration of the global gag rule will lead to approximately 6.5 million unintended pregnancies, 2.1 million unsafe abortions, and a staggering 21,700 maternal deaths worldwide. It will mean that about 1.5 million women won't be able to get the won't be able to access contraception.
This, of course, would be awful on a personal level for each of the women and the families directly affected by this. But it could also change the course of developing countries' entire economies. In a USA Today op-ed published Sunday, Melinda Gates hailed contraception as "one of the greatest anti-poverty innovations the world has ever seen," pointing specifically to her work with the Bill & Melinda Gates Foundation on the issue in Indonesia. There, contraceptive use soared by more than 50 percent when the country strategically used foreign aid to implement a successful family planning program.
Women opted to have fewer children. This helped to lift the families out of poverty, ensured that the kids were more well-educated, and allowed more of the women to work outside the home. Now, Indonesia is now longer a poor nation — it's a middle-income country with the world's eighth-largest economy.
Obviously, family planning is key for individuals, their families, their communities, and even their countries. The global gag rule needlessly hinders growth and places unnecessary burdens on our global neighbors.