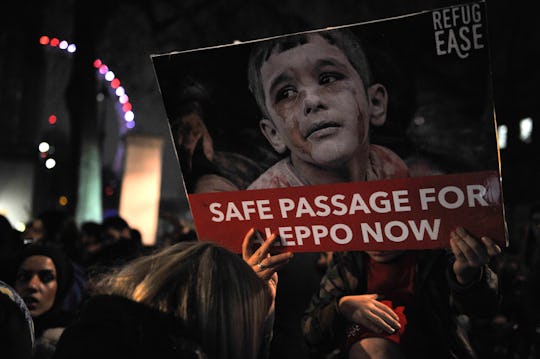 DANIEL SORABJI/AFP/Getty Images
How to Help Aleppo Civilians Left Stranded In The Devastated Syrian City
As the relentless bombing of the Syrian stronghold of Aleppo (and the unalloyed suffering of its trapped civilian inhabitants) has intensified in recent months, a mother and her daughter have provided harrowing Twitter dispatches from inside the civil war-decimated city. The fighting escalated to a crescendo this week as pro-government forces reclaimed final swatches of the besieged eastern portion of the city; amid reports that the army was shooting Syrians dead on the streets, the mother, Fatemah, sent a devastating update: "Dear world, there's intense bombing right now. Why are you silent? Why? Why? Why? Fear is killing me & my kids." To imagine their desperate situation from the West is uncomfortable, and the helplessness many of us feel is paralyzing, but there are some ways to help Aleppo civilians — even when mitigating the dire horrors of their plight seems impossible.
The Twitter account Fatemah shares with 7-year-old Bana has been silent since the last tweet went live around 7:30 a.m. EST, and their status is not known. (There have been some claims made that "Bana" may be a fabrication, though many who claim that the account is fake are still uncertain.) In the meantime, an agreement to pause the shelling and airstrikes to allow traumatized survivors to escape has disintegrated, and the BBC reported that there are an estimated 50,000 people still confined to the last sliver of rebel-held territory, which is under heavy bombardment.
They've been living in inhumane conditions — one United Nations official called it worse than an "slaughterhouse" and physicians were performing surgery on children without anesthesia when medical care was still available — since the nearly six-year conflict that has killed hundreds of thousands and displaced millions zeroed in on their homes, and those who are left and remain in mortal danger have been begging for relief as the devastation reaches a climax.
According to NPR, people in eastern Aleppo have no access to either food nor fuel, and they are watching as dead bodies pile up in the streets as the Russian-backed attacks continue. The carnage is so severe that the White Helmets, a team of volunteer first responders who have assiduously worked to pull Syrians from the rubble of their destroyed homes, can no longer provide figures estimating the death toll of the hordes of victims of violence. The White Helmets are, however, still working to save lives in a catastrophic situation, so a great way to help people enduring the unthinkable in Aleppo is to donate to their cause.
As if often the case in emergency situations when lives are on the line, money may be among the most effective ways to reach out to the tens of thousands of Syrian people stuck in eastern Aleppo, as well as the millions who have lost their homes. Vogue recently rounded up a list of some of the organizations trying to serve those beleaguered by the civil war: Charity groups like Mercy-USA, which is raising funds to build a health clinic outside of Aleppo; The UN's refugee agency, which is working to get relief items like hygiene kits, sleeping bags, and medicine to those who have fled the city; and the UN's Human Rights office, which could help to ensure that the potential war crimes currently plaguing eastern Aleppo don't manifest elsewhere in the future.
In addition, here's a list of organizations that share the mission to help Syrian refugees.
But a lot of those options won't be useful to those still struggling for life within the city's limits as long as they are forced to stay there, or choose to for fear of being sent to prison or worse if they relocate to a government-held area. For aid workers to enter the combat zone is, of course, the epitome of dangerous. So, eastern Aleppo-based freelance journalist Zouhir Al Shimale detailed ways for others (primarily the Russian people, as their president, Vladimir Putin, backs the Syrian government and is a force behind the bombardment) to help staunch the flow of misery in a short video for Al Jazeera English:
... People feel very helpless at this point. And they say that "yes, we just feel sorry for you but we cannot do anything." I think that's not the accurate situation for you now. Everyone can go an demonstrate against the Russian embassies and head toward the streets and just go and shout. Go with everybody you know to show your solidarity and to show to those people, to you human being brothers, that you do care about them and just don't feel sorry and maybe cry for a while then close your phone or laptop. I don't know how or what you're capable of....
Raising awareness is also important, even if using the #StandWithAleppo hashtag is less urgent than doing everything possible to physically remove those under attack from the danger areas and to get them the life-saving resources and assistance they need. But by all accounts, the civil war in Syria is far from over even after it moves on to a new phase, and the world — particularly those in power — needs to have learned its lesson about staying silent as human beings are slaughtered.