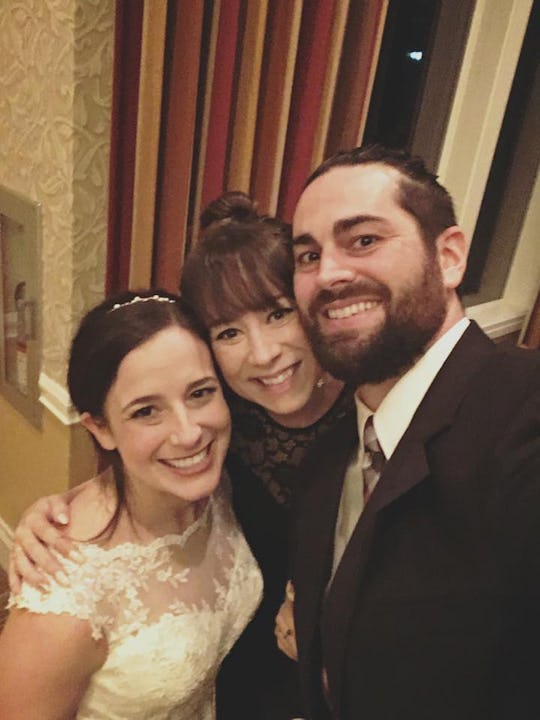 Photo courtesy of Danielle Campoamor
I'm A Mom & I'll Only Go To Weddings If They're Kid-Free
I used to scoff, emphatically, at the thought of a kid-free wedding. "Are you going to pay for my babysitter?" I would say in my head, internally raging at the idea that someone would ask me, a mother, to their nuptials, but decide against inviting the tiny human I'm responsible for. If I'm already spending money on an engagement present, a bridal shower present, a wedding present, travel, and a hotel stay, so why on earth would I spring for a sitter? Then I attended a dear friend's wedding sans my child and, well, I'll only go to kid-free weddings from here on out. Scout's honor.
Now, a wedding isn't my idea of a fun "date night," so it's not like I wouldn't have been more excited to spend money on a sitter to, say, go to a bar or see a show or sit in a movie theater and enjoy the directorial stylings of whoever the hell is responsible for the latest Marvel installment. But I like love as much as the next dopey sap, so spending an evening with my partner, an open bar, and a happy newlywed couple wasn't the worst way to enjoy our coveted "adult time." And perhaps more importantly, the moment I gave the bride a hug and told her how beautiful she looked, I realized how important it was to her, and the rosy-cheeked groom, that I was there. And not just there physically, but actually present and capable of holding an adult conversation without a curious 3-year-old asking question after question after perplexing question.
As my partner and I sat at a table filled with semi-successful 20-somethings, all more than happy to say yes to another serving of wine as we discussed the current political climate and if celebrities should actually be allowed to run for office, I realized that this moment would have been impossible to relish if my toddler was by my side. Would he have been looking dapper in a tiny, overpriced suite? Absolutely. Would he have been the center of attention? Without question. But he would have struggled to sit still for an extended period of time, he would have undeniably spilled something on the perfectly pressed table cloth, and while my son is deserving of attention, I would have grown tired of answering questions related entirely to my child.
I was able to enjoy a world in which needy children did not exist. I was free to dance, take pictures, drop a few f-bombs.
The national average cost of a wedding in the United States, in 2016, is $35,329, according to a survey by The Knot. I have no idea how much money my dear friend, and/or her family, spent on their wedding but I can guess that it wasn't a cheap affair. That amount of time, planning, and money that goes into a wedding isn't for the faint of heart, so while I was initially perturbed at the thought of being asked to leave my kid behind, looking around a kid-free wedding makes it all seem... understandable. Who wouldn't want their wedding to go off without a hitch, and after months of planning and preparation? And do you know who has an impeccable record of ruining otherwise fault-free events? Children. And while it's no fault of their own, it's unfair and unrealistic to ask a miniature human to act like an adult with half a sense of social decency. My friend — hell, anyone who decides to promise to live their entire lives loving one, singular person — deserves to have the wedding of their dreams. If that dream includes a child-free soiree, who am I to ruin it with my choice to procreate?
And while a wedding is absolutely not about me, or the guests in general, I will say that being able to actually enjoy the ceremony and reception was a nice break from my otherwise toddler-obsessed life. For at least a few hours, and while donning a nice dress and wearing a liberal amount of "good makeup," I was able to enjoy a world in which needy children did not exist. I was free to dance, take pictures, drop a few f-bombs, hold two beverages of the alcoholic variety in my hot little hands, and all without worrying about a small child's needs and wants. I was able to simply be me, not mom me, and it made the entire event more enjoyable.
Was procuring a babysitter for four hours so I could attend my friend's wedding reception cheap? Eh, not really. But since my partner and I knew, in advance, that our son wouldn't be joining us, we were able to budget for the extra expense. He was able to spend the night doing what he loves — watching Team Umizoomi, eating pizza, reading to an adult, and playing with cars — and his father and I were able to spend a few rare hours focusing solely on ourselves and our adult-oriented surroundings. In my opinion, that beats the hell out of spending an evening chasing around a toddler who refuses to sit still and eat the mushroom-stuffed chicken or the bacon-wrapped shrimp.
So, no, I will not be attending anymore weddings with my son in tow. It's not worth it, to be honest, and if the bride deserves to have the wedding of her dreams, then I deserve the chance to enjoy that wedding... kid-free.