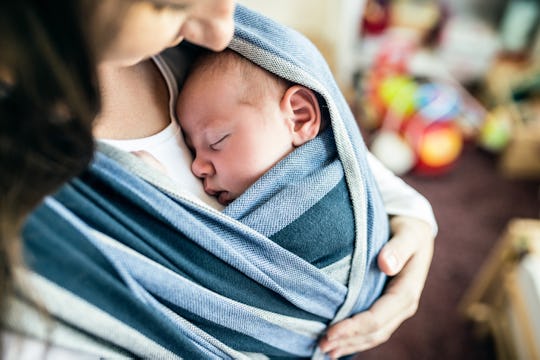 Halfpoint/Fotolia
I'm An Attachment Parent & These 8 Stereotypes Are *Totally* True
My kids are older now, but when they were babies I found myself naturally gravitating toward what I eventually learned was attachment parenting. Based on the idea that parents should be physically and emotionally responsive to all their baby's needs via near-constant proximity, attachment parenting is the subject of a lot of spilled ink —people either love it or hate it. I loved it. It's definitely not for everyone, but it worked for me and my family. And, I'll be honest, some attachment parent stereotypes are totally true. Or, you know, they can be.
It could be very easy to fight any of these stereotypes, because for as many stereotypes that resonated there was an aspect of them that didn't. I don't think I personally ever entered "cartoon character" level of attachment parent. But, then again, there were definitely times when I thought to myself, "OK, this is pretty typical and I'm going to be a sport and laugh at myself." I think all of us, at some point or another, will teeter into the land of some kind of stereotype. Because while no one is solely a stereotype — we're fully-formed by a life experiences and unique personalities and have nuance and depth — they're stereotypes for a reason, right? And, hey, that's OK. Use it as a way to assert your beliefs or have a sense of humor or bond with other people who find themselves in the same boat.
So with that in mind, here are some of the attachment parent stereotypes I've found to be rather accurate.