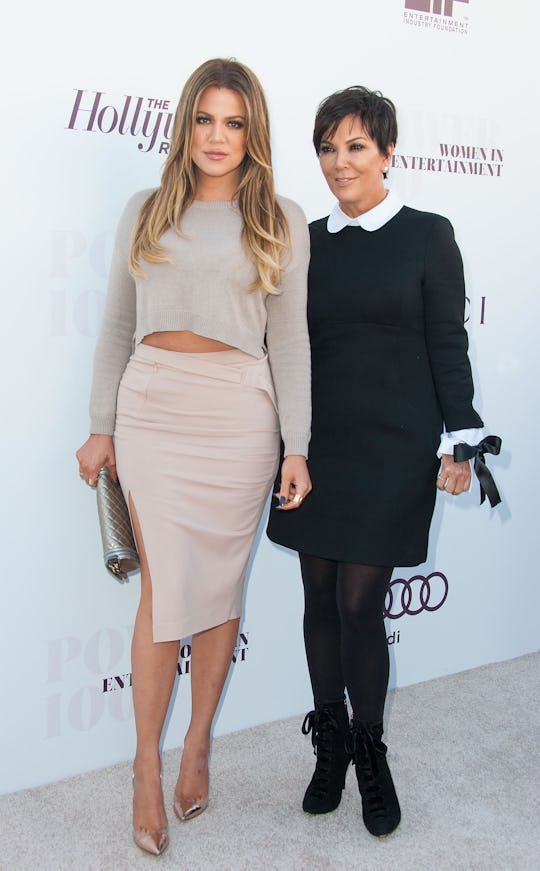 Valerie Macon/Getty Images Entertainment/Getty Images
It Sounds Like Khloé & Baby True Have A Major Move Ahead Of Them, According To Kris Jenner
There's no denying that things have been a little hectic in the Kardashian-Jenner family lately. From three babies being born within six months of each other to some less-than-lovely rumors dominating headlines, it's been a challenge to keep up. But now that she's given birth and has been living in Cleveland ever since, many might be wondering if Khloe Kardashian has plans to move back to L.A. with baby True, her adorable daughter, or if she's planning on staying in the Midwest, where her boyfriend, Tristan Thompson, plays for the Cavaliers.
Now, the former isn't an outrageous assumption, considering that Thompson, baby True's father, has been accused of allegedly cheating on Kardashian more than once while she was still pregnant. (Reps for Thompson and Kardashian didn't immediately respond to Romper's requests for comment regarding the cheating allegations.) Of course, there's no way to know exactly what Kardashian and Thompson are really going through right now, nor is it anyone's business but their own. But given the lack of updates from Kardashian and Thompson, what's going on is really anyone's guess.
However, Kardashian's own mom and manager, Kris Jenner, recently told Us Weekly that she was expecting her daughter back home in L.A. fairly soon. In fact, according to the magazine, when asked if her daughter was going to be returning from her extended stay in Cleveland, Jenner told Us Weekly, "She'll be home soon, so it's really great." Additionally, Jenner also said that she thinks her daughter will back for the foreseeable future. When a reporter asked if Kardashian would be coming home "for good," she responded simply, "I think so! Yes!" as Us Weekly reported.
Jenner didn't mention whether Thompson would be accompanying Kardashian and baby True back to California, which is kind of understandable. Before Kardashian gave birth to True on April 12, rumors of Thompson's alleged infidelity began to swarm. And while the rumors have yet to be addressed by both Kardashian and Thompson, Kardashian's older sister, Kim Kardashian West, did tell Ellen DeGeneres on her talk show that the entire situation was seriously "f*cked up." She added in the same interview:
... I think just the family gets so emotionally invested in whoever each other is with. We treat them like family. We give them our whole soul … so we really were rooting for Khloé, and we still are. She's so strong and she's doing the best that she can. It's a really sad situation all over.
Initially, after Kardashian gave birth, sources claimed that she was going to try to leave Cleveland and Thompson as soon as she was cleared to fly, as The Cut reported. But that's taken a little longer than expected, it seems, and so this latest news that she's actually going to be back home soon is a nice bit of concrete news, given how many rumors have been flung around lately.
Whenever Kardashian and baby True actually arrive in California, it's certain that they'll be welcomed by her entire family. And who knows, maybe baby True, Kylie Jenner's sweet daughter, Stormi, and Kim Kardashian's adorable baby girl Chicago will all finally meet and have the most epic photo shoot together.
Whether she moves back to California or stays put in Cleveland for now, it's clear that she's making her decisions based on what's best for herself and baby True. And hopefully, she'll be able to find peace and be able to focus on the joys of motherhood. And, if she wants to, hopefully she'll keep on posting some more totally adorable photos and videos of little True. Fans certainly wouldn't mind the sweet updates in their newsfeeds.