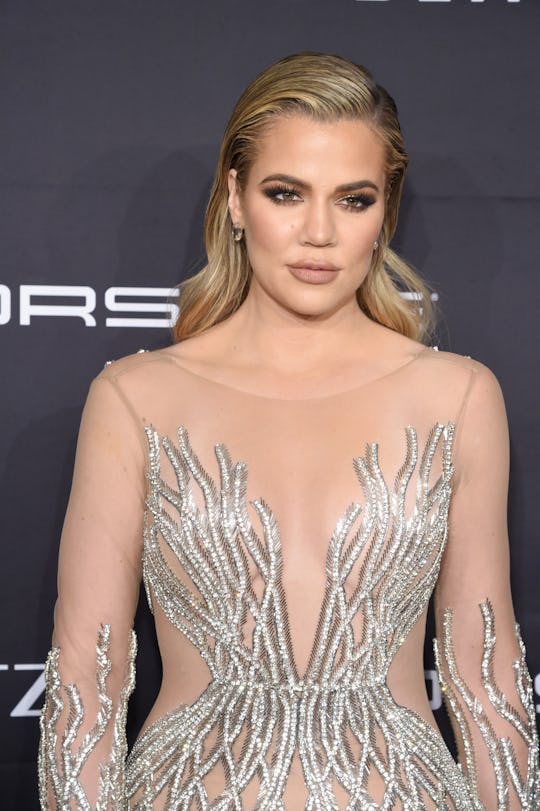 Jamie McCarthy/Getty Images Entertainment/Getty Images
Khloé Kardashian Just Revealed Her Daughter's Name & Here's Why She Could Have Chosen It
Following the thrilling news last week that Khloé Kardashian gave birth to her daughter, fans took to social media to theorize about the infant's moniker. Of course, the curiosity was to be expected. This is Kardashian's first child, after all, and her famous fam has a long history of keeping people on their toes when it comes to baby monikers. Luckily for Keeping Up With The Kardashians loyalists, Kardashian announced her baby's name on Monday, April 16, following days of speculation. And if you're wondering if Khloé Kardashian's daughter is named after anyone, here's what we know.
When Kardashian finally announced her pregnancy in December 2017, fans immediately expressed interest in her baby's name. And this curiosity only intensified after Kardashian revealed to the world via an episode of Keeping Up With The Kardashians that she'd welcome a baby girl with her boyfriend, NBA Cavaliers player Tristan Thompson.
Although Kardashian never spilled the beans on the name, she did offer fans a few hints. When one of Kardashian's Twitter followers asked about the baby's moniker in March, she responded, according to Us Weekly: "I think a T but a K is an option as well. That's as far as I know."
Towards the end of March, however, Kardashian confirmed her desire for a "T" name. One could assume Kardashian settled on the letter "T" in an effort to honor Thompson and his family. "Beautiful but I'm going with a babe that starts with a T," Kardashian replied to a fan who suggested the name Ella Thompson, according to Twitter.
Of course, many people theorized that Kardashian would choose a name that incorporated either Thompson's first or last name, like Trista, for example.
Others, however, hoped that Kardashian would opt for a name that honored the baby's maternal side. I mean, someone will have to pay homage to momager extraordinaire Kris Jenner at some point, right? Jenner has earned her dues, to say the least.
So, what did Kardashian end up deciding? As it turns out, Kardashian named her daughter True Thompson. "Our little girl, True Thompson, has completely stolen our hearts and we are overwhelmed with LOVE. Such a blessing to welcome this angel into the family! Mommy and Daddy loooooove you True!" Kardashian captioned an Instagram photo of a room filled with pink balloons shared on Monday.
True is certainly unique moniker and while it might seem like it doesn't bear any obvious connection to her famous fam or any of her friends, Kardashian's mom, Kris Jenner, revealed on Monday that her grandfather's name on my father's side was named "True Otis Houghton." She wrote:
I'm so excited to welcome my precious little granddaughter True!!! FUN FACT... my Grandfather's name on my Dad's side was True Otis Houghton....my Dad's name was Robert True Houghton...so i am so excited Khloe named her daughter True!!! #lovebug#familytradition#family@true
Additionally, given that her name does start with a T, there's a strong chance that it's an ode to Thompson as well as keeping up with a tradition based on having first and last names with the same initials in their families (Khloe Kardashian, Kim Kardashian, Kourtney Kardashian, Tristan Thompson, and his father Trevor Thompson).
Also, the meaning of the name True — according to SheKnows, the name True means "loyal" — could be sending a message about the cheating allegations Thompson has faced recently. In case you missed it, Kardashian gave birth just days after the Daily Mail published footage that purportedly showed Thompson allegedly with another woman. Romper's requests for comment from both Thompson and Kardashian's team regarding the cheating allegations were not immediately returned.
Name aside, there's no question Kardashian is psyched to finally be a mom. In fact, just days before Kardashian gave birth on Thursday, a source told People: "Khloé keeps in contact with her family every day. She seems ready for her baby girl to arrive. She seems a bit nervous, but mostly excited."
Emphasis on ready, people. It goes without saying that Kardashian has been waiting for this moment for a long time.
Of course, the KarJenner clan is *thrilled* that Kardashian is officially a mom. "BLESSED," Jenner wrote via Instagram on Thursday, while Kourtney Kardashian uploaded a cute photo in tribute to "girl power."
Fans were as equally psyched for Kardashian.
"So happy that @khloekardashian has had her little girl, as much stress and pressure she's probably been under the last few days she's finally become a mother and that's all she ever wanted," one person tweeted.
Another person added: "So happy to hear @khloekardashian had her baby!!!!!! You deserve this so much Khloe. Your daughter is so lucky to have you as her mom. So excited for you."
All of this happiness and excitement is a nice reminder that it doesn't really matter whether or not Kardashian named her baby after someone. Even if you don't like the moniker True, it's important to remember that at the end of the day, this is about celebrating Kardashian's entrance into motherhood.
Check out Romper's new video series, Bearing The Motherload, where disagreeing parents from different sides of an issue sit down with a mediator and talk about how to support (and not judge) each other's parenting perspectives. New episodes air Mondays on Facebook.