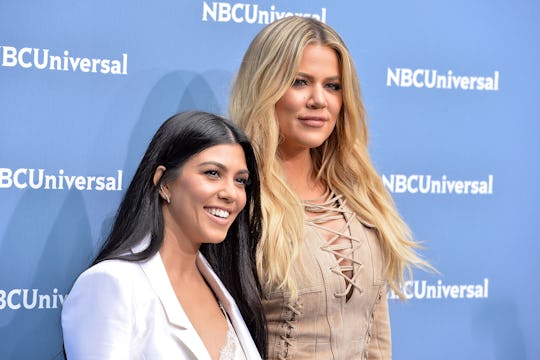 Slaven Vlasic/Getty Images Entertainment/Getty Images
Kourtney Kardashian Shared This Super Empowering Message After Khloé Welcomed Her Baby Girl
On Thursday morning, TMZ reported that Khloé Kardashian gave birth to her daughter and that her family, including boyfriend Tristan Thompson, were there to celebrate it with her. Koko hasn't officially confirmed the arrival of her baby girl just yet, but fans can assume that the family is very excited. Kourtney Kardashian's reaction to Khloé Kardashian giving birth at least is a sign that the women of the family, both young and old, are ready to take on the world. As if they haven't done so already, right?
The picture was taken on Easter Sunday, judging from all of the other Snapchats and Instagram pics from the KarJenner sisters that day. In it, Kourtney's 5-year-old daughter Penelope is flexing her arms next to a tug-of-war rope, with Kim's daughter North West right behind her. Pulling up the back of the squad is 5-year-old Ryan, daughter of Kardashian family friend and publicity guru Tracy Nguyen Romulus.
Kourtney captioned the pic with an all caps, "GIRL POWER," which seems to be her very low-key way of welcoming another Kardashian girl into the family. If there's one thing about Kourtney, it's that she always keeps it low-key.
The picture, along with the all-important caption, might also hint at something more than a birth announcement, given the alleged rumors around Khloé and Tristan's relationship at the moment.
Ah, yes, let's step back for a minute just in case you've somehow not been around for the past few days. Earlier this week, the Daily Mail published a video that purportedly shows Khloé's boyfriend, and father of her daughter, allegedly kissing a woman in New York City last week. In the wake of the outlet's post, TMZ released a video that purports to show Thompson doing some pretty explicit things with two women in D.C. back in October.
Whether or not the man in the videos is actually Thompson hasn't been confirmed and no member of the family has made a statement about the two videos, so it's all mere speculation at the moment. Romper's request for comment from both Kardashian and Thompson's representatives was not immediately confirmed.
But, if you believe the rumors, they couldn't have come at a worse time, what with Khloé just hours away from going into labor. It should be noted that Thompson was reportedly in the delivery room with the rest of Khloé's family on Thursday morning when she gave birth, according to TMZ. So, who knows what's really going on. We're just bystanders, here.
As bystanders, fans read a lot into Kourtney's post about "girl power" mere hours after the family welcomed another baby girl into the world. A lot of people on Instagram assumed that it was Kourt's way of sending a message to Thompson and all the jilted lovers of the world that women, especially in this family, can handle anything. Using the younger generation to do so was especially poetic for those commenters.
One wrote under the tug-of-war pic, "Congrats to your sissy! I know y'all have her back! This is POINTED." Another added, "More strong girls added to an already strong family.. KARDASHIAN/JENNER STRONG." Another fan was glad to see the sisters sticking together, writing, "yall she taking care of her sister guys Girl Power is a MESSAGE this means a lot." One more summed it all up by adding, "They got her front and her back. #family."
Let's just be really real here. If Tristan did allegedly cheat on Khloé, her family most definitely has her back. Nothing is stronger than the bond between the Kardashian and Jenner sisters. Really, Kim drank a smoothie made of sardines in order to not spill any beans about her sisters last year. That's hardcore.
Likewise, Kourtney has her own ways of supporting her family, whether it's a possibly coded Instagram caption or telling it like it is, basically all the time.
Maybe it's the influence of their powerhouse mother, Kris Jenner, or just the fact that growing up on national television is a team effort, but these women never, ever, tear each other down. It's one of my favorite things about them.
Their uniform, solid front when it comes to dealing with the public makes sense. With so many people seemingly coming at them all the time, it makes no sense to fight amongst each other for very long. (There are a ton of comments on that "girl power" picture scolding Kourtney for being on social media while her sister was reportedly giving birth, totally missing the point.)
Sure, there are many men in their lives — including Kourtney and Kim's sons — but Khloé's daughter just entered a world infused with girl power at a moment when her mom might need it the very most. Luckily, both baby and new mom are going to have all the support they need, at least if Kourtney has anything to say about it.
Check out Romper's new video series, Bearing The Motherload, where disagreeing parents from different sides of an issue sit down with a mediator and talk about how to support (and not judge) each other's parenting perspectives. New episodes air Mondays on Facebook.