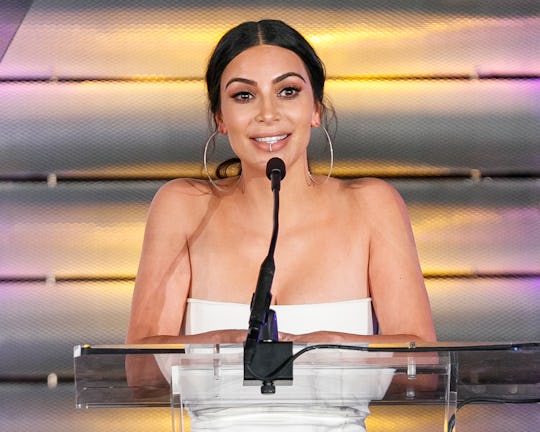 Rich Polk/Getty Images Entertainment/Getty Images
Is Kim Kardashian's Surrogate Having A Girl Or A Boy?
Kim Kardashian's family seems to be going by one more. According to Us Weekly, her surrogate is reportedly pregnant; neither Kardashian herself or husband Kanye West have yet confirmed the reports. Is Kim Kardashian's surrogate having a boy or girl? Their surrogate is reportedly a mom from San Diego, California in her late 20s and she is already three months pregnant. In June, reports surfaced that Kardashian hired a surrogate because her doctors deemed future pregnancies too risky for the 36-year-old business mogul.
Update: Kim Kardashian West confirmed to Ellen Degeneres that she was expecting a girl through surrogacy.
Earlier: Considering most expecting mamas don't find out their baby's sex until the 20-week anatomy scan, it's likely still too early to tell if the Kardashian West family will be welcoming a little girl or a boy in January 2018, their surrogate's due date. There is definitely a chance that Kardashian may already know the sex, but hasn't chosen to share the news: Blood tests that can reveal sex as early as seven weeks into a pregnancy have been around since 2015. Regardless, it's exciting news all around for soon-to-be big brother Saint and big sister times two North.
Right now, the Kardashian West family is a 50-50 split on sex, so obviously, having a boy or girl is going to tip the scales towards one sex over the other — which is what makes speculating about whether Kim Kardashian's surrogate is having a boy or a girl such fun. North and Saint are basically fashion icons in their own right, and I personally cannot wait to see more wicked fashion-forward baby outfits on Kardashian's Instagram account — and maybe some new baby clothes for the Kardashian West new kids clothing line?
On Keeping Up With The Kardashians, Kim K has spoken at length about how important it is for her to have at least one more child, coming from such a massive family of siblings herself. She's been candid on KUWTK about exploring surrogacy as a possibility, but with these latest reports, it would appear that Kardashian has resolved to move forward with building her family with a third party.
In the above clip, Kardashian mused on the idea of how using a surrogate allows her to have a baby for as long as a year before ever telling the public, so there's a chance fans might have to wait a very long time indeed to find out if she's having a boy or a girl. But given that the Kardashian surrogate pregnancy announcement seems to have come from a source other than Kardashian herself, it's doubtful we'll have to wait until after the birth of her third child to find out the sex. (Ahem, Beyoncé.)