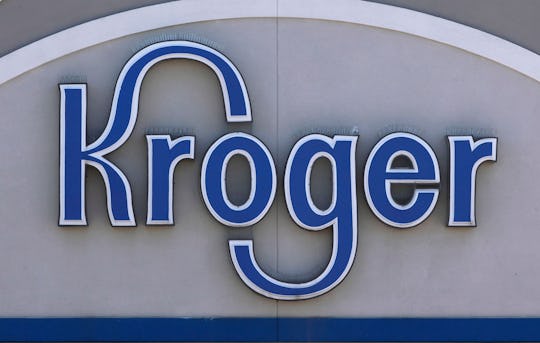 Paul Sancya/AP/Shutterstock
Kroger's Thanksgiving Hours Vary, So Def Give Them A Ring If You Need To Stop By
There are so many reasons to love Thanksgiving. Some people like it because of the time they get to spend with their family or because it marks the official start to the holiday season. I'm personally a fan because it's a day dedicated entirely to eating, my favorite pastime. Food is the whole point of Thanksgiving, so it's important to make sure you have everything you need to make your holiday dinner spectacular. To do that, you may need a last minute ingredient or two on the holiday, and you may find yourself wondering if Kroger is open on Thanksgiving 2018.
I get to be the bearer of good tidings and report that yes, Kroger will be open on Thanksgiving this year, but the answer is actually a little more complicated than that. All Krogers will be open in some capacity for turkey day, but the hours for each store vary depending on location, per their site. Some locations will be open 24 hours, and others will be closing as early as . p.m. in honor of the holiday. Luckily, you can look up the hours of your local Kroger on the store's website, but the safest thing to do is to call ahead.
If your location is going to close early, get your heavy duty shopping done before Thanksgiving day. No one wants to go to the store looking for a holiday staple that's important but also easily forgotten until the last minute, like cranberry sauce or the ingredients for a green bean casserole, just to find that the store has been totally wiped clean. Plus, the one flaw with Thanksgiving is that millions of families are gathered to eat the exact same meal (unless you're going for a vegan Thanksgiving this year), so it's likely most grocery stores will be out of what you need most by Thanksgiving morning. Making sure you get essential ingredients ahead of time will save you some stress in the long run.
Even if you've got everything you need for your holiday feast, here's another reason why you might want to visit Kroger on Thanksgiving day: Black Friday sustenance. A handful of stores will open their doors on Thursday to kick off their Black Friday sales including Target, Walmart, Old Navy, and Macy's, which means tons of people will head straight from Thanksgiving dinner to a packed mall in hunt of the best deals. My hunch is at least a few of these eager shoppers will need a caffeine fix or a snack (leftovers won't keep well in a car full of shopping bags) at some point in the evening, so an open grocery store where you can make a pitstop will make a huge difference. Even if you're so full you think you'll never eat again after the Thanksgiving feast, stopping at Kroger for some water at least to stay hydrated is a solid life choice. Just make sure your local Kroger isn't one of the locations closing early before you decide to stop by.
Whether you're running out for forgotten ingredients or grabbing a pick-me-up before your shopping adventure, it's nice to know that Kroger will be open.