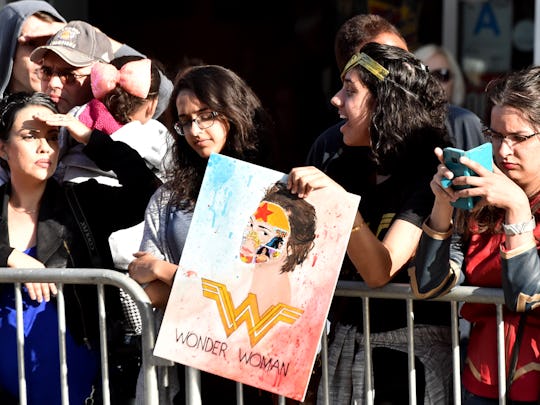 Frazer Harrison/Getty Images Entertainment/Getty Images
Is Wonder Woman's Husband A Feminist?
With its unwavering depiction of a woman's power onscreen and its shattering of box office records in real life, Wonder Woman is almost certainly the most empowering film of the summer. Breakout actress Gal Gadot, who plays Wonder Woman herself, displayed her prowess in both the fictional superhero sphere as well as in real life through her dedication to her craft and to her family. And it helps that her family — namely her husband, Yaron Versano — is just as dedicated to her as well. Of course, his dedication to his wife isn't proof that Yaron Versano is a feminist, but it's a positive indication that this could very well be the case.
Gadot and Iraeli businessman and real estate developer Versano have been married since 2008, and they have two young daughters together: 6-year-old Alma and 3-month-old Maya. Versano himself isn't bathed in the same limelight that is currently illuminating his wife, but it's clear from social media that he's totally enamored by his daughters and about as proud of his wife as is possible for a husband to be. Case in point: He recently posted an Instagram photo of himself wearing a shirt that pretty succinctly and adorably showcased what is certainly Gadot's most significant professional achievement to date: starring in Wonder Woman.
On one side, the shirt displays a humdrum image of the outline of a woman, á la the ones you typically see on the door of a public restroom. "YOUR WIFE," it reads below. The other picture shows the outline of Wonder Woman herself, strong and striking. "MY WIFE," the text beneath blares. And Versano's Instagram page is basically a tribute to his wife and family through and through. "10 years have gone by, yet it feels like yesterday we first met... My heart will forever beat to the sound of our love ❤ Gal Gadot Varsano," he captioned a particularly adorable one of the two kissing.
The fact that Versano is so excited about Wonder Woman is a clue that he's behind the premise — and a huge tenet of that is the titular character's independence. "She is not relying on a man, and she's not there because of a love story," Gadot told Glamour in March. "She's not there to serve someone else."
The concept of being a feminist is simple, really. Feminists believe in equality of opportunity for men and women. And Gadot shared with Glamour in that same interview that her husband supports her 100 percent in exploring her own ambitions. She recalled what he said to her when she expressed guilt about being a working mom:
Gal, think about what kind of a role model you want to be. If you want to show Alma that she can follow her dreams, that's what you should do, and we will figure out the logistics
I don't know Versano's politics, of course, but I think he's doing something right. After all, he's proud and supportive, and encourages his wife to follow her dreams. And that's pretty feminist if you ask me.