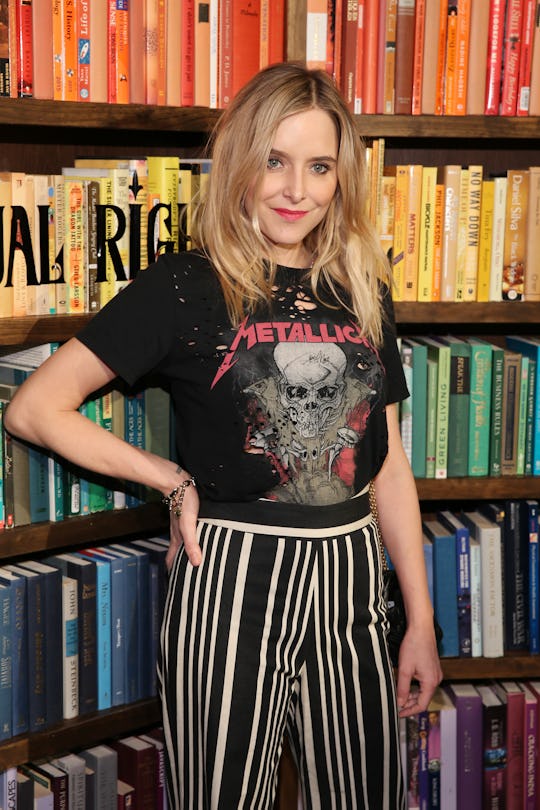 Jemal Countess/Getty Images Entertainment/Getty Images
Jenny Mollen Is Urging Moms To Get Checked Out For This Post-Pregnancy Health Condition
Fans of Jenny Mollen know that the actress and author's Instagram is typically filled with hilarious, all-too-real posts about the realities of motherhood. However, this week, Mollen used her platform to create awareness for something much more serious. Jenny Mollen's newly-diagnosed postpartum thyroid condition has inspired her to use Instagram to spread awareness about the disease.
Mollen and her husband, actor Jason Biggs, have two sons: Sid, 4, and Lazlo, 6 months. She often documents her life as a mother on Instagram, by narrating day-to-day struggles on her Instagram Stories, posting hilarious photos of her kids, and sharing pictures of how her body has changed. In line with keeping her followers updated on everything motherhood-related, she has done the same with her thyroid condition, which she first started noticing last week.
Over the past few days, Mollen has shared several posts detailing her symptoms, asking for doctor recommendations, and updating her followers on her diagnosis. Her most recent post, shared Wednesday afternoon, is a mirror selfie of her nude body, which has quickly become thinner over the past few months. "Not anorexia, it's a thyroid issue," she wrote alongside the photo. "I don't know what it says about me that I got this thin and didn't think there was anything wrong."
The post continued:
Last Friday, I had a bulge in my neck that finally got me to the doctor. I'm STILL waiting on blood work but my doc thinks it's Graves. If you just had a baby and have lost an inordinate amount of weight, feel like you are on cocaine, are suddenly heat intolerant, and can't stop losing hair, and feel like your husband is being a dick it might just be your thyroid!! Get checked ASAP #thyroid #6monthspostpartum
Mollen said that her doctor thinks she has Graves' disease, which is an autoimmune disorder that causes hyperthyroidism, aka an overactive thyroid, as explained by the National Institute of Diabetes and Digestive and Kidney Disease (NIH). The disease is the most common cause of hyperthyroidism in the United States, it's most typical for people between ages 30 and 50, and women are much more likely to get it than men, according to the NIH. There are three different ways to treat Graves' disease, the NIH noted: medicine, radioiodine therapy, and, rarely, thyroid surgery.
Postpartum thyroiditis occurs in 5 to 10 percent of women in the United States, according to the American Thyroid Association. The exact cause of postpartum thyroiditis issues is not exactly known, but there's a higher risk of developing it if you have an autoimmune disorder, positive anti-thyroid antibodies, a history of previous thyroid dysfunction, a history of previous postpartum thyroiditis, or a family history of thyroid dysfunction, the American Thyroid Association notes.
As Mollen noted in her posts throughout the week, her symptoms included an enlarged thyroid on her neck (known as goiter), heat intolerance, irritability (or, as she called it, "feel[ing] like [her] husband is being a d*ck"), and weight loss. Other common symptoms, as noted by NIH, include a fast and irregular heartbeat, frequent bowel movements or diarrhea, tiredness or muscle weakness, trembling hands, and trouble sleeping.
Over the weekend, Mollen shared an Instagram post acknowledging her rapid weight loss, explaining that she woke up with a huge bulge in her neck on Friday, which served as an important wake-up call. She wrote:
Many of you have written and asked me about my rapid weight loss. Weight loss that to be honest, I couldn't really explain until now. This morning I woke up w a giant bulge in my neck the size of a golf ball. I had blood work and an ultrasound and will be waiting for the results over the weekend. Though I am not certain, I have good reason to believe it is some sort of hyperthyroidism. Apparently this is common in women AFTER PREGNANCY. If anyone has experienced this or thinks they might have the same thing, please leave me a message below. Also anyone in NYC w a Doc they love
It's awesome that Mollen is using her platform to spread awareness about Graves' disease, as other postpartum mothers dealing with similar symptoms may see her post and decide to have a doctor check things out. Hopefully Mollen has a speedy recovery and her message reaches other moms going through the same experience.
Check out Romper's new video series, Bearing The Motherload, where disagreeing parents from different sides of an issue sit down with a mediator and talk about how to support (and not judge) each other's parenting perspectives. New episodes air Mondays on Facebook.