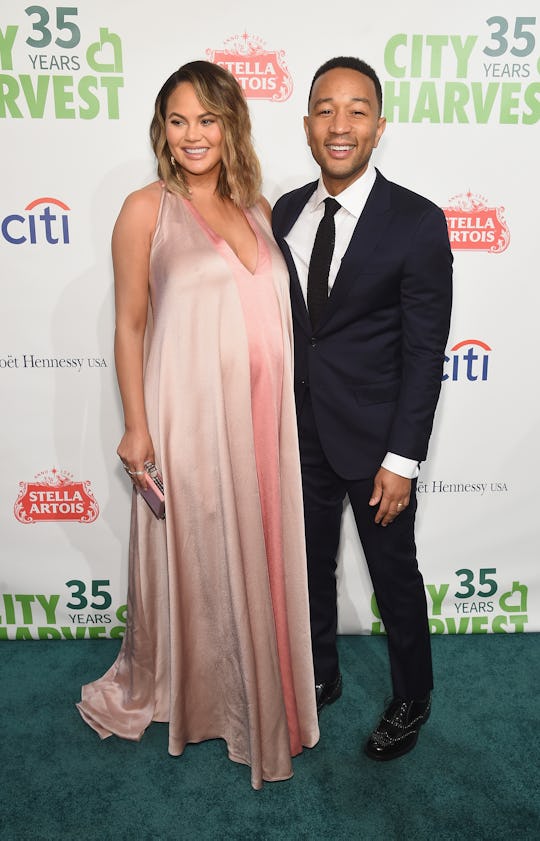 Jamie McCarthy/Getty Images Entertainment/Getty Images
John Legend Opens Up About How Many More Kids He & Chrissy Teigen Want
Chrissy Teigen and John Legend must really be enjoying the whole family expansion thing. Less than four months after their son Miles came into the world, joining their 2-year-old daughter, Luna, the couple has hinted that the Legend-Teigen family might not be done growing yet. In a recent interview, John Legend said that another baby may be in the cards for him and Chrissy Teigen.
On Wednesday, Legend appeared on Fuse Music's radio show Big Boy's Neighborhood, Billboard reported. When the host asked Legend if he and Teigen were planning to have more babies, he gave a very exciting answer. "I think so, we'd like to. We can do three," Legend said on the radio show, People reported.
Based on the couple's adorable and hilarious social media posts (namely, the ones from the family's über-long Bali vacation), it's easy to see that Teigen and Legend are so in love with both of their children. They almost had "two in two" (aka two kids in two years), having welcomed Luna in April 2016 and Miles in May 2018. It would make sense if Teigen wanted to wait a little longer than two years before having another baby — but then again, it would also make sense for them to have another one soon, so their kids are all close in age. Basically, when two people are as passionate about parenting as Legend and Teigen are, they can't go wrong.
Teigen has opened up about wanting a large family on several occasions in the past. In a March 2016 interview with Self, Teigen revealed that her ideal number of kids is four. "I think I'll probably be pregnant all through my 30s," she told the outlet, adding:
I've always pictured everyone around the table for the holidays and together once a week. It'll be heartbreaking if it doesn't end up happening, but hopefully it will. We've got some embryos on hold ... I hope that when we do have those four kids, John and I can look at each other and know that it's us against them ... We are going to love the s--- out of our kids, but we are going to team up and fight in pairs!
In a March 2018 interview with Us Weekly, Teigen joked that her plan was to have three babies, and then "get hot," but she revealed that she was rethinking the whole "pregnant throughout her 30s" thing. She told the outlet:
I think I do want to have another baby after this and then get hot ... I just want to go babies, back to back to back, but then I think maybe I want to have my 30s, really live in my 30s and not just be pregnant throughout them.
And this past June, when HollywoodLife asked Legend if the couple was done having more kids, he replied: "I don't think so. We will probably have more! Yeah!"
It's clear that Teigen and Legend's admiration for each other makes them an incredible parenting team. During his Big Boy's Neighborhood appearance this week, Legend took a moment to wax poetic about his wife. "She's funny, she's fearless, she's effervescent, and she's beautiful, of course," he said on the show, according to Billboard.
Not to mention, in that Us Weekly interview earlier this year, Teigen praised her husband for being so supportive throughout their journey as parents. "I have a husband who truly loves the whole experience," she told the magazine. "He holds my belly at night, sings to it, wants to be there for me."
Basically, it seems like Teigen and Legend used to want four kids, but now, they're considering cutting things off after three. Either way, here's hoping Teigen is still as into posting adorable photos of her brood by the time baby number 3 is born!