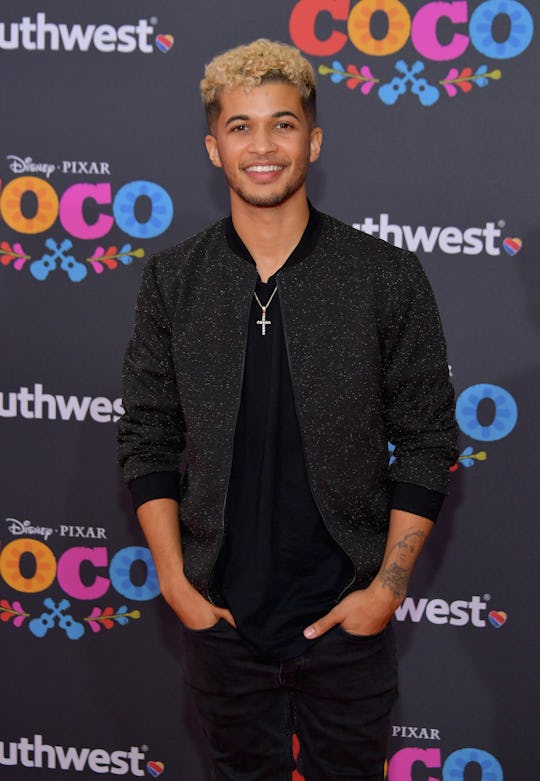 Neilson Barnard/Getty Images Entertainment/Getty Images
Jordan Fisher Has Some Advice For Kids In Show Biz — EXCLUSIVE
When it comes to dream jobs, one that is fun and fulfilling with a group of coworkers who feel like family is what everybody hopes for. And that's exactly what Jordan Fisher has found on Dancing With the Stars: a family he joined last year and is still grooving with to this day. And on the phone earlier this week, he gave Romper a glimpse into that family. Fisher opened up about the pressures of competing on Dancing With the Stars, hosting the show's Juniors spinoff, and his advice for parents whose children want to get into the performing arts.
After competing in (and winning!) Dancing With the Stars' 25th season last fall, actor, singer, and dancer Jordan Fisher realized he was not ready to leave the reality franchise just yet. So when the producers approached him about hosting Dancing With the Stars: Juniors earlier this year, it was a no-brainer.
"When the idea of Juniors came around, it just made sense. It sounded like a great idea. I didn't know how emotionally involved & invested I'd be in the kids and their journeys, and it's been such a beautiful experience," Fisher says.
But even though Fisher is on the same stage and surrounded by a lot of the same people, hosting and competing have been two totally different beasts. "Competing on the show is really difficult. There are things that you aren't really aware of or warned about going into it. Obviously it's definitely very physically demanding, but it's emotionally and mentally exhausting as well," he explains. "You're tasked with something you've never done before, and then asked to perform it live on live television for millions and millions of people."
And Fisher is in awe that the young stars and pros on Juniors are capable of the same tasks at half his age. "That's why I love to praise and lift the kids up as much as possible, because they are doing that at the ages that they are, better than the adults," he says. "And they're learning twice the amount in half the time and they just handle it."
That said, it's no surprise that Fisher is enjoying the less-stressful job of host. "I am safe from elimination every week," he jokes, adding that the only thing he worries about now is keeping the high energy consistent from the beginning to end of each episode. "Keeping and maintaining the flow of the show is definitely a challenge but I learned a lot week in and week out and it got better and better."
If you looked at an anonymous copy of Fisher's resume, you would probably never guess that he's only 24, considering his career path. Before DWTS, he was best known for the TV shows Liv and Maddie, Teen Wolf and The Secret Life of the American Teenager, the show that moved Fisher to Los Angeles and catapulted his career. He also had parts in Grease: Live, as well as Teen Beach Movie and its sequel. Grease director Thomas Kail introduced Fisher to Lin-Manuel Miranda, who subsequently chose Fisher to sing a bonus track with him on the Moana soundtrack, and Fisher later joined the cast of Hamilton on Broadway.
When asked if dancing on Broadway in Hamilton eight nights a week prepared him for the dancing challenges of DWTS, Fisher responds with a laugh. "Nothing can prepare you for Dancing With the Stars. Period. The end," he declares. That said, the experience of performing live in Hamilton (which Fisher says was "the dream") did give him a sense of comfort when it came to performing live on stage during DWTS.
Fisher has certainly said "yes" to a lot of amazing projects since entering show business at the age of 10, and he's so grateful for all of the amazing opportunities he's had — but he's also learned to say "no" along the way. "'No' is a really powerful word, and it's one that I learned to exercise a lot over the last few years because of time. There's so much that I want to do with my life, and I have a lot of other goals," he says, adding that he wants continue moving forward with his career and start a family in the future.
Fisher started performing professionally 14 years ago, and it's clear that his levelheadedness and success stems from the support he got from his parents at 10 years old. He tells Romper:
I have incredible parents. No offense to every other mom and dad in the world, I have the best. In terms of the selflessness, and acts of service and kindness they've showed me, and how to walk and live ... ultimately resulted in a moment as a kid where they were like, "Is [performing] is something you really really truly want to do? If this is something you really want to do and you can't see yourself doing anything else, we will do whatever we need to do to help make that happen.
For anyone reading whose child may have already caught the acting, singing, or dancing bug, Fisher has plenty of advice for supporting that in the right way, just like his parents did. "You run the risk of being a kid who can't go and play and hang with your friends because you gotta go to work," he says. So he suggests that parents with kids breaking into show business continually let their child know that they can stop.
"If you as a parent are like, 'Hey, we can stop today,' and the kid breaks down in front of you in tears because all they wanna do is go to rehearsal and build and create and do the thing that they love to do, then you're probably on the right track as a parent," he advises. "Because the best thing you can do for them is let them know that all of it can go away the moment that the kid wants that to happen." Additionally, he wants to remind kids pursuing similar career paths that the industry can be very inconsistent. "Recognize that it takes time," he says, explaining that it's common for performers to go unemployed for long periods of time between gigs.
So when Dancing With the Stars: Juniors wraps up later this year, where can Fisher's fans find him? He's currently working on She-Ra and the Princesses of Power, an animated show set to premiere on Netflix on Nov. 16. Not only was the process of voiceover acting an absolute joy ("You show up in your PJs and a baseball cap!"), but he's so excited for audiences to see the action-packed show, which he says has a cast of mostly women and a strong focus on women empowerment. And in addition to She-Ra and the Princesses of Power, Fisher also has a few "pretty massive" projects on the horizon. He can't say anything about just yet, but he sounds palpably excited to finally share them with fans in the coming weeks. You definitely have not seen the last of Jordan Fisher.