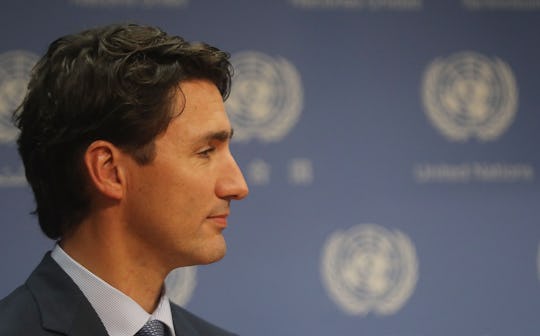 Spencer Platt/Getty Images News/Getty Images
Justin Trudeau Stands With Canada's Muslims
It was a tumultuous weekend for Muslims in North America, after President Donald Trump issued a temporary travel ban on people from seven Muslim-majority countries to the United States, and gunmen who stormed a Canadian mosque Sunday evening killed six worshippers there. But while Trump's actions worked to alienate American Muslims, Canadian Prime Minister Justin Trudeau's statement on the Quebec mosque shooting displays solidarity with and concern for the religious group that's often viewed with suspicion and whose members have been the victims of hate crimes in the countries they call home. In condemning the tragedy as a "terrorist attack on Muslims," and writing that he considers diversity to be a strength, Trudeau reiterated that he stands with all the people of his country.
The two masked assailants who opened fire indiscriminately during prayers at about 8 p.m. Sunday at the Quebec Islamic Cultural Center have been arrested, although their identities and motivations are not yet public knowledge, the Toronto Star reported. But the devastation they left behind is heartbreakingly clear: The dead range in age from 35 to 70, and six of the eight wounded are in critical condition, CNN reported. Again, what should be a safe place of worship has transformed into a macabre crime scene.
And perhaps just as devastating as the human carnage is the psychological toll events such as this one — whose perpetrators ostensibly target victims solely because of their religion — have on Muslim populations in general. The president of a Montreal mosque, Megmet Deger, told CBC News Montreal that he could not sleep after the attack in Quebec, remembering how windows at his own mosque have allegedly been broken, its walls reportedly tagged with insults, and own his vehicle reportedly shot at. Another Muslim leader, Canadian Muslim Forum president Samer Majhoub, told the outlet that after the Quebec massacre a "shockwave is hitting the community."
Which is why it's so important that Canada's prime minister spoke out quickly and definitively against the violence, identifying instances of violence again Muslims in particular as egregious crimes. "It was with tremendous shock, sadness and anger that I heard of this evening's tragic and fatal shooting at the Centre culturel islamique de Québec," Trudeau wrote in the statement.
... While authorities are still investigating and details continue to be confirmed, it is heart-wrenching to see such senseless violence. Diversity is our strength, and religious tolerance is a value that we, as Canadians, hold dear.
Muslim-Canadians are an important part of our national fabric, and these senseless acts have no place in our communities, cities and country. Canadian law enforcement agencies will protect the rights of all Canadians, and will make every effort to apprehend the perpetrators of this act and all acts of intolerance.
Tonight, we grieve with the people of Ste-Foy and all Canadians.
Trudeau's response to the shooting in the mosque stands in stark contrast to the Trump administration's handling of such sensitive topics. On International Holocaust Remembrance Day Friday, the new president issued a brief statement that did not once mention the six million Jews who were murdered under the Nazi regime. At the same time, his executive order halting the refugee program for 120 days and banning citizens of Iran, Iraq, Somalia, Yemen, Syria, Sudan, and Libya from entering the country for 90 days — under the guise of preventing Islamic terrorism, even though no person from any of those countries has ever carried out a deadly attack in the United States — prompted protests throughout the nation.
With the directives that critics call a "Muslim ban," Trump is building on campaign rhetoric that portrayed Muslims as dangerous threats to national security. So, it was no surprise when the country experienced a surge in hate crimes against Muslims right after he was elected president, as experts said those harboring negative feelings toward the Muslims in their communities felt emboldened to act on their fear and ignorance.
Trudeau's support of the Muslim community in his country will not by itself eliminate hate crimes against them, of course. But it will not give others the confidence to replicate this or other crimes, perpetuate harmful stereotypes about Muslims, or make them feel even more afraid. Instead, it celebrates inclusivity and reiterates the value of diversity even in the wake of a terrible, senseless crime. And in that regard, perhaps Trump has something to learn from our neighbors to the north.