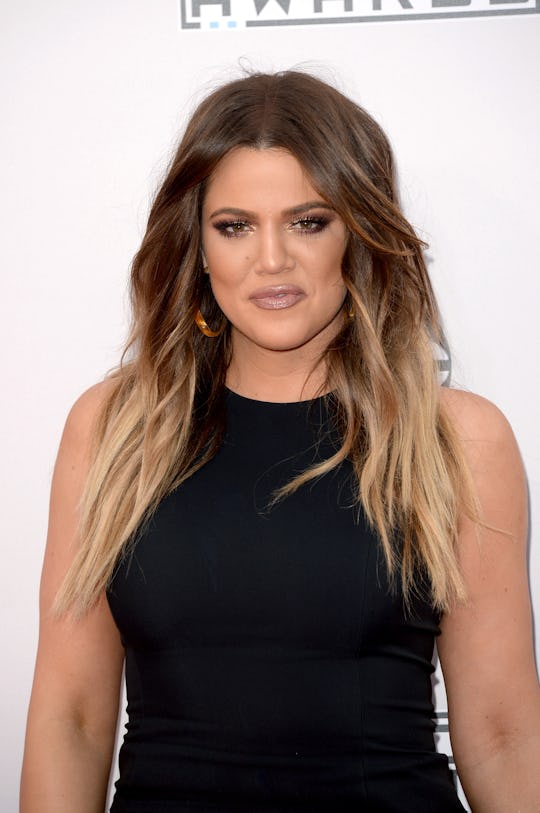 Jason Merritt/Getty Images Entertainment/Getty Images
Khloé Kardashian Baby Updates Show The Deets Are Still *Super* Limited
After using social media to keep fans updated on her pregnancy for months, Khloé Kardashian suddenly went silent last week, just in time for TMZ to report that she gave birth. So even though she herself has yet to confirm the news, there are still plenty of Khloe Kardashian baby updates to tide followers over in the meantime.
Kardashian had a pretty dramatic week last week. Besides giving birth, the Daily Mail alleged that Kardashian's boyfriend Tristan Thompson cheated on her. The outlet shared a video of someone who appeared to be Thompson kissing another woman at a New York City nightclub on Saturday, April 7. Also, TMZ uncovered footage from this past October of someone who looked to be Thompson hanging out with three women at a Washington, D.C. hookah lounge. In the video, the man who appears to be Thompson is kissing one woman, and yet another woman is stroking his crotch. Representatives for Thompson and Kardashian did not immediately respond to Romper's request for comment regarding the allegations.
All that being said, it's no surprise Kardashian has chosen to remain out of the spotlight in favor of being with her newborn daughter the last few days. Until we have updates from the new mom herself, here are eight baby-related updates that have been reported so far.
1. Thompson Was In The Room When Kardashian Gave Birth
As noted in TMZ's original report, Thompson was in the room when his girlfriend gave birth, despite the allegations that broke just days prior. Having Thompson in the delivery room was part of Kardashian's birth plan.
2. The New Baby Had Plenty Of Love In The Room When She Came Into The World
Kourtney, Kim, and Kris, were all reportedly in the room too, as was Kardashian's best friend Malika Haqq, according to TMZ.
3. Kris Jenner Is Thrilled
On Thursday, the day that Kardashian was rumored to have given birth, W magazine tweeted: "When three of your sisters give birth in under a year. Congratulations to #KhloeKardashian on welcoming another girl to the KarJenner clan!"
Kris quote-tweeted (rather, attempted to) the magazine's tweet, adding, "BLESSED!!!" Fans took this tweet as further confirmation that Kardashian did in fact give birth, and also as an implication that the new mama and her baby were doing well.
4. The Baby Is Gorgeous, According To Kim Kardashian
On Friday, April 13, one day after Kardashian gave birth, her sister Kim took to Twitter to celebrate her beautiful new niece.
"Your baby girl is so beautiful! You are so strong, you made that look so easy!" she wrote. "I'm so happy I was able to return the favor of holding your leg while you pushed LOL." That's some serious sisterly love.
5. Kardashian Currently Has Sole Custody Of Her Daughter
Because Kardashian and Thompson are not married, Kardashian gets sole custody of her daughter — unless Thompson legally files for joint custody. Katie Arthurs, an attorney, explained how this works to HollywoodLife:
If a child is born to unmarried parents, then under Ohio law, the mother has sole custody. It is then up to the father to file with the court to establish paternity, custody/shared-parenting, and/or visitation rights.
However, that could change if Kardashian and her baby move to California. Andrews also told the outlet:
If a child is born in Ohio, and continues to reside in Ohio, then the father may petition for custody and visitation rights in Ohio. However, if the child moves to another state, and resides in that state for at least 6-months, then that other state may have jurisdiction over custody.
6. Khloé Kardashian Is Planning To Travel With The Baby... A Lot
Flying with a baby is generally not a pleasant experience, and it seems Kardashian is doing everything she can to make it a little better. (Flying in a private jet, as the Kardashians often do, will undoubtedly make things easier, too.) The reality star reportedly went on a shopping spree at Petit Tresor, a baby boutique in Beverly Hills, just a few days before giving birth, according to TMZ. "Sources" told the outlet that Kardashian spent nearly $4,000, and her purchases included a BabyZen Yoyo Travel Stroller, a Medela Pump On-The-Go Station, and a Storksak Travel Diaper Bag. This report is a bit confusing, considering she officially settled down in Cleveland almost a month ago.... just sayin'.
7. Kardashian And Her Daughter May Return To Los Angeles Soon
This info also comes from the mouth of an anonymous source, so take it with a grain of salt. On Friday, the "source" told ET Online:
After a very tumultuous few days for Khloe, she has made the decision to fly home to Los Angeles as soon as the baby is ready to travel ... Right now, she realizes she needs her family around her and knows they are the people in her life that she will always love and trust.
8. Orrrrr, She Could Stay Put In Cleveland And Work Things Out With Thompson
The same source allegedly told ET Online:
She loves him, and it looks like for the time being she isn't ending their relationship ... She is in no shape to make that decision right now.
And another source told ET Online:
They are both 100 percent committed to moving past this and focusing on the overwhelming joy they have in their life right now with their new daughter.
Before giving birth, Kardashian did not announce how long she planned to stay in Cleveland, so her next move is really anybody's guess — clashing "anonymous sources" included.
Fans are still eagerly awaiting the baby's name and photos of the Kardashian family's newest bundle of joy — and considering how much Khloé Kardashian has to deal with right now, it won't be a surprise if that info takes longer than expected.
Check out Romper's new video series, Bearing The Motherload, where disagreeing parents from different sides of an issue sit down with a mediator and talk about how to support (and not judge) each other's parenting perspectives. New episodes air Mondays on Facebook.