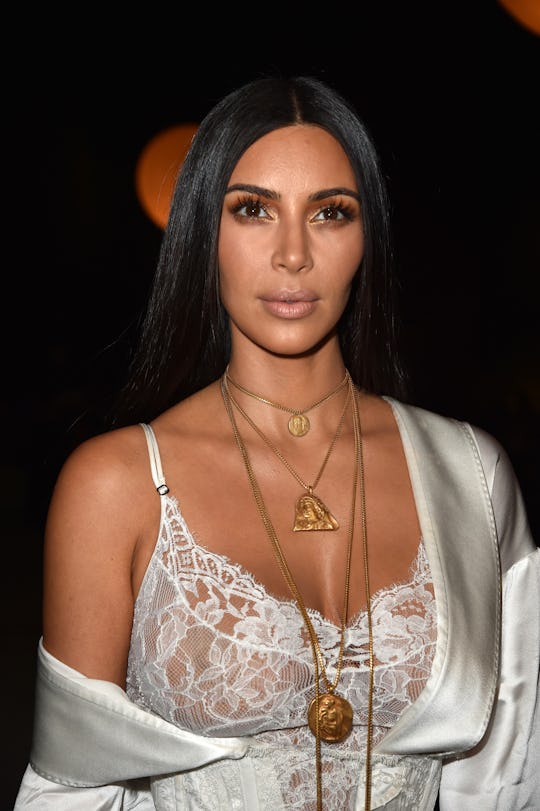 Pascal Le Segretain/Getty Images Entertainment/Getty Images
People Are Shaming Kim K For "Flaunting" Her Wealth After Paris Robbery & It's So Cruel
Every time one of the Kardashians posts a picture on Instagram, they likely expect some trolls to come out. But the way people are shaming Kim Kardashian for "flaunting" her jewelry on social media this weekend is really awful, especially if you've ever experienced a trauma or recovered from post-traumatic stress disorder.
Over the weekend, Kardashian posted selfies and videos of herself hanging out with friends and showing off a grill on her bottom teeth that said "Kim" on Snapchat, according to People. On Sunday, she posted another close-up shot to Instagram of a different grill on her top teeth, featuring three necklaces on her chest: A "Pablo" chain and two religious pendants.
The picture, if you're a connoisseur of Kardashian Instagram posts, is strikingly similar to the selfie she posted just before she was robbed in Paris during 2016 Fashion Week. Just after she posted that picture, according to E! News, three men entered her hotel in Paris, tied her up and held her at gunpoint. Luckily, they didn't harm her, but they took $11 million worth of jewelry, including her $4.9 million engagement ring from Kanye West, according to E! News.
Kardashian spoke of the traumatic incident on Keeping Up With The Kardashians after taking a lot of time away from the spotlight. She said that she considered running when she heard them ask for the "rapper's wife," according to Rolling Stone.
Kardashian told her family, which was shown on an episode of KUWTK, about her thoughts while it was happening:
Am I going to run down the stairs and either be shot in the back? It makes me so upset to think about it. Either they're going to shoot me in the back, or if I make it and they don't, if the elevator does not open in time, or the stairs are locked, then like I'm f*cked. There's no way out.
She said that she "mentally prepared" to be raped, but the robbers instead just "dragged" her to the bathtub while they finished the job, according to The Washington Post. Which is why it's so terrible that fans are taunting her for this most recent picture, essentially victim-blaming her for getting robbed at gunpoint last year.
One person wrote, "Sorry.. but wasn't it posts like this that caused you to get robbed the first time?" Another said, "So much for not flaunting wealth." And still another, "Didn't you post this type of picture day before you got robbed?"
Most of the comments echoed this sentiment, going full on victim-blaming, "Didn't a picture just like this get you held up at gun point??" one wrote. And another commented, "Again showing off your bling? guess you haven't learned a thing." Yet another chimed in, "Are you not that woman who claimed to be robbed at gunpoint and after that 'happened' you would never ever post pictures of your jewelry again."
Those comments are terrible, since they continue to blame and mock Kardashian for living her best life. In case you missed it, she doesn't do anything wrong by posting pictures of herself wearing her jewelry or playing around with grills (unless, of course, you want to talk about why she's wearing a grill in the first place, which is a much more worthy conversation). If anything, that she feels safe enough to post a selfie like one before the robbery is a good thing.
If it were anyone but Kim Kardashian posting selfies after a trauma, would you feel alright making comments that could not only trigger PTSD but blame the person for being tied up, threatened, and robbed? It's akin to telling a rape survivor she shouldn't wear "revealing clothing" the first time she feels safe to leave her house again. Yea, that example is explicit and awful, but it's the same breed of nonsense victim-blaming as telling a woman that her selfie caused her to be held at gunpoint for her engagement ring.
You can hate the Kardashians *just because* but no one deserves to be violently attacked like she was, despite what they wear or post on social media. She has a right to be wealthy and share it, even if you don't like it.
After the robbery, the Kardashian and Jenner family beefed up security, stepped away a little bit from the media, and, according to Us Weekly, removed all the jewelry from her homes. So maybe that's why some fans feel like they have some duty to report what they see as "hypocrisy" in this most recent selfie.
One of the lessons the family took away from the experience was to be just a little more private on social media. Kardashian said on The View last year that she's changed her posting style on social media since being robbed. She said that she tries to not post in real time and not to post too many materialistic things. Her robbers confirmed last year that social media helped them pull off the crime, according to Refinery 29. But, that doesn't mean that she has to leave social media or stop doing whatever she wants.
Instead of being self-righteous in her comments, it would be so much nicer if people realized that a selfie like this is a clear sign that she's healing. Which is good for her and her family, including two young children and a third baby who's coming in a few months. I don't know her, but the more emotionally healthy a woman can be whenever, and especially with an incoming baby, always sounds like good news to me. There are many constructive criticisms to have about Kim Kardashian, but blaming her and her selfies for a violent crime isn't one of them.
Check out Romper's new video series, Romper's Doula Diaries:
Watch full episodes of Romper's Doula Diaries on Facebook Watch.