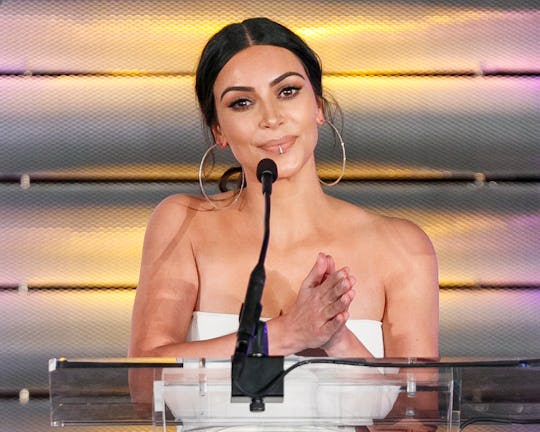 Rich Polk/Getty Images Entertainment/Getty Images
Kim K's New Paris Robbery Details Are Harrowing
In a promo for the upcoming episode of Keeping Up with the Kardashians that E! Entertainment promises "everyone will be talking about," Kim Kardashian shares new details of the Paris robbery she suffered last year — and it's still raw and harrowing. The reality TV star describes to her sisters and viewers how she saw the gun the robbers were wielding "clear as day" but soon realized there was "no way out" of the upscale hotel where they found her alone. Kardashian has kept a relatively low profile since the October incident that dominated international headlines, having taken a months-long social media hiatus and limiting public appearances. Still, she's a Kardashian, so the public will hear her firsthand account of the event Sunday, March 19.
"They ask for money. I said I don't have any money," Kardashian said in the one-minute clip. "They dragged me out on to the hallway on top of the stairs. That's when I saw the gun clear, like clear as day. I was kind of looking at the gun, looking down back at the stairs."
According to previous reports, Kardashian was bound, gagged, and left in the bathtub of the No Address Hotel, where she was staying while she attended Paris Fashion Week. The robbers stole more than $10 million worth of jewelry.
In January, French police arrested 10 suspects in connection with the crime, although only five were seen on the surveillance footage captured at the hotel handcuffing the concierge at about 2:30 a.m. Oct. 3 and forcing him to take them to Kardashian's apartment. The suspects, identified by fingerprints they left in the residence, were well-known to police and had long criminal records. It appears they were after a $4 million ring that the reality TV star had recently flaunted on Instagram — which they did steal — but Kardashian had no way of knowing what their intentions were at the time, and whether they would hurt or even kill her. Which makes hearing exactly what she was thinking in the midst of the ordeal even more unsettling and heartrending.
"I was like, I have a split-second in my mind to make this quick decision," Kardashian tearfully tells her sisters Kourtney and Khloé Kardashian in the sneak peak. "Am I gonna run down the stairs and like, either be shot in the back — it makes me so upset to think about it — but, either they're gonna shoot me in the back, or if I make it and they don't, if the elevator does not open in time, or the stairs are locked, then like I'm f---ed. There's no way out."
In the aftermath of the incident, Kardashian's celebrity family has rallied around her — and, apparently, spending time with them has helped her begin to heal. In February, her mom Kris Jenner said in an appearance on The Ellen DeGeneres Show that walking her family members through what happened was "very therapeutic" for her daughter, People magazine reported.
It's easy to understand Kardashian's fear as she talks about what was undoubtedly one of the most traumatic experiences of her life, if not the most traumatic. So, it's good to hear that bringing the details out into the open in this way is helping to relieve her of some of those negative feelings.