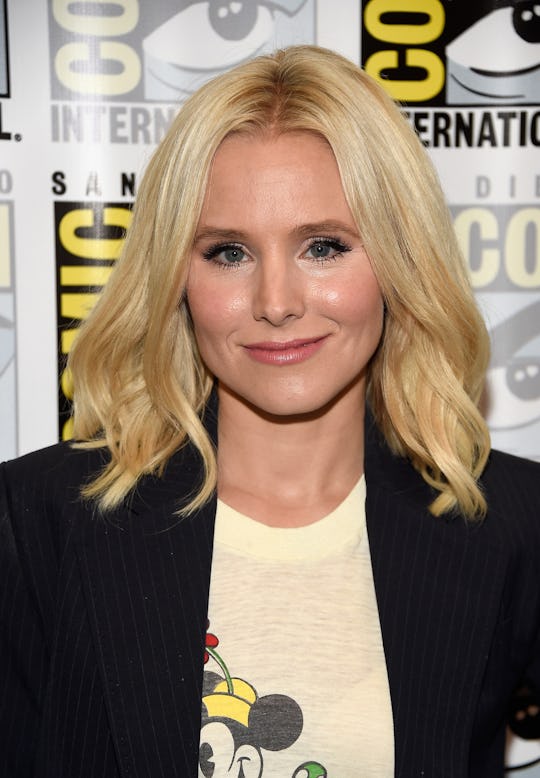 Frazer Harrison/Getty Images Entertainment/Getty Images
Kristen Bell Shares Her Courthouse Wedding Photos, & They're Beautifully Simple
In her upcoming comedy film Bad Moms, Kristen Bell may play a, well, quasi-bad mom, but in real life the actress is wholly dedicated to her husband and two daughters. So much so that she's sometimes emotional about it. When Kristen Bell finally shared her courthouse wedding photos almost three years after the "I do's" on CBS Sunday Morning, she totally teared up about the joy and contentment she has in her relationship with Dax Shepard, and what a "wonderful" father he is — and it was an adorable gift for her fans.
The 36-year-old actress actually married Shepard in an incredibly low-key event in October 2013, but never shared any photos with the public until Sunday, according to People. When the two arrived at the Beverly Hills courthouse after filling out their online paperwork, in fact, they realized they hadn't brought their own officiant like they needed to. A volunteer ended up doing it, and the newlyweds headed out for sandwiches afterwards.
"I don't fault anyone who wants a big day – especially girls," Bell previously told the magazine. "[But] we get more than enough attention in our everyday lives. I also wear more than enough party dresses."
In her CBS interview nearly three years later, though, she happily turned the attention onto Shepard. (Skip to 4:45 for the part of the video that will give you all the feels.)
The wedding, Bell told CBS's Tracy Smith, was "still one of the best days of my life." And for the Veronica Mars alum, the wedding was just a continuation of the relationship she shared with Shepard since 2007 (they two got engaged in 2010), and the jumping off point for the rest of their lives together.
It's clear she's so thankful for her husband, how he's grown, and the way their relationship has evolved:
He knows the value of things. He was an addict for many, many years and he pulled himself out of it, and he's been sober for 11 or 12 years now ... And he knows how many times he's messed up and how many times he's been really close to losing everything.
Now, they're the parents of two young daughters, Lincoln and Delta, whom they're raising to treat people with respect, as Bell recently told Us Weekly. And judging from the CBS interview, there's lots of mutual respect between Bell and Shepard, who's best know for his roles in the comedies Without A Paddle and Employee of the Month.
Bell is know as a down-to-earth, relatable celebrity, opening up about her struggles with depression and dealing with regular parenting challenges like breastfeeding and cleaning up kid puke. And she all about putting her family ahead of her career, telling CBS that her main consideration when accepting a job is whether it will allow her to be close to her children:
I always think, if I'm on my deathbed, what am I gonna be thinking about? And it won't be some random movie I participated in, or some TV show. It will be my family.
Even though she kept it trés simple, it's clear Bell's wedding was quite the joyous affair. Family is what's important to her, after all — not big audiences or party dresses.