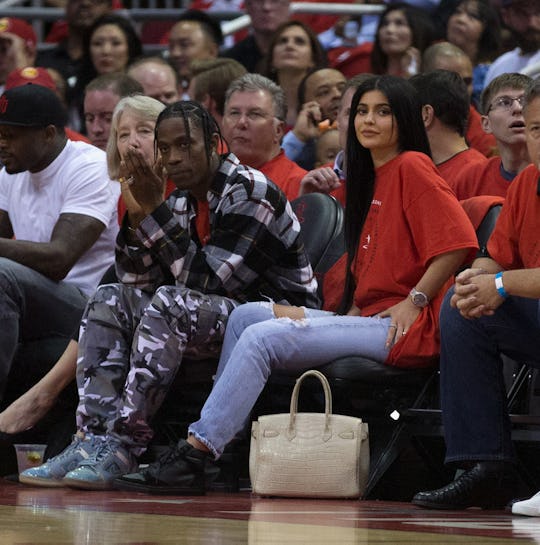 Bob Levey/Getty Images Sport/Getty Images
Did Travis Scott Rap About Getting Kylie Jenner Pregnant In This Song?
Ever since news broke that Kylie Jenner is reportedly pregnant, a deluge of questions and speculation have taken over the not-so-small corner of the internet that's obsessed with all things Kardashian. For instance, is the 20-year-old mogul actually pregnant? And if so, how does Jenner feel about this whole starting a family thing? And, just as important, how does her relatively new boyfriend, rapper Travis Scott, feel about all this? Neither Jenner nor Scott has officially confirmed or addressed that they're expecting, but reports indicate that they are excited to welcome their first baby in February. And the probably soon-to-be dad's music seems to indicate that that's true as well, as Jenner's reported pregnancy gives this Travis Scott rap verse a whole new meaning.
The song that's garnering a lot of attention in the wake of the major revelation that Jenner and Scott have a little one on the way is SZA's "Love Galore," on which Scott kills it with a guest verse. In that verse, the 25-year-old raps pretty darn unambiguously about getting a woman pregnant. Just so we're all on the same page, as Entertainment Tonight pointed out, here are the now quite prescient-seeming lyrics:
You say La Flame can make you fly, yeah (make you fly, yeah)
Let me c** inside ya
Let me plant that seed inside, yeah
If the pregnancy reports are true (Romper has reached out to representatives for both Jenner and Scott for comment, but has not heard back yet), then "plant that seed inside" is exactly what Scott seems to have done. And, as Entertainment Tonight reported, "Love Galore" was released in April — right around the time that Jenner and Scott started dating. Coincidence? The world may never no.
Alternatively, anyone who can't shake this question will likely find out the whole story on some not-too-distant future episode of Keeping Up with the Kardashians, in which Jenner and Scott and the whole fam could very well spill some deets on these pressing questions for your entertainment and for their ratings.
In any case, Scott's telling verse in "Love Galore" very well could end up as evidence in the "yes" column for those fans frantically trying to decide whether Jenner got pregnant on purpose. Also, Scott's enthusiasm for impregnating a women in the song seems to have translated over to real life. Citing an "insider" source, People reported Saturday that the couple began telling friends their baby news long before the public caught wind, and that family members have known for "quite some time." "She is really excited and so is Travis," the unnamed source told the magazine.
Scott's apparent excitement over starting a family with Jenner didn't stop there. TMZ, which was the first to break this Kardashian story, reported that Scott even told friends that he and Jenner will be having a baby girl. And yet another anonymous source told People that Scott started telling friends about the pregnancy all the way back in July because he was "so excited he couldn't keep it in." "He's been so affectionate and protective of Kylie since they found out," the source said, according to People. "He can't wait to be a dad."
Of course, even the most out-there theories about Jenner's reported pregnancy — such as the apparent fan favorite that she is actually acting as a surrogate for her older sister Kim Kardashian — will likely endure until either Jenner of Scott squelch them once and for all. There will likely always be those who (offensively) insist that Jenner is too young to have a child.
But the couple's public-facing joy at their news is breaking through too, so there's no doubt about it: This baby will definitely be loved.
Watch Romper's new video series, Romper's Doula Diaries:
Check out the entire Romper's Doula Diaries series and other videos on Facebook and the Bustle app across Apple TV, Roku, and Amazon Fire TV.