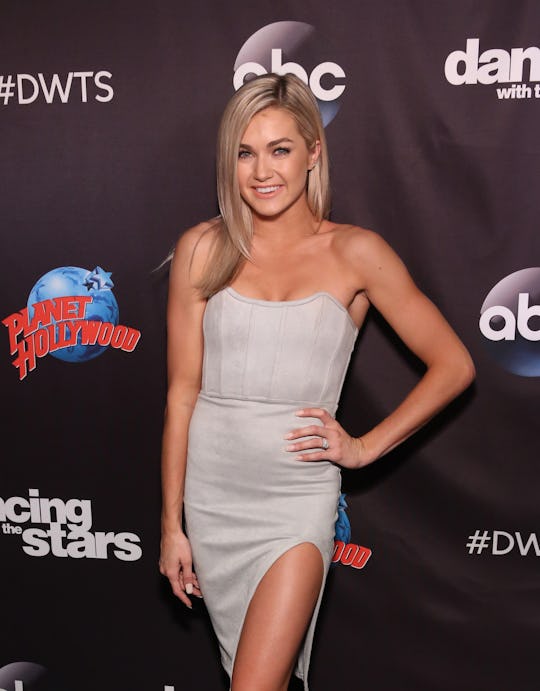 Robin Marchant/Getty Images Entertainment/Getty Images
Lindsay Arnold Can't Stop Won't Stop — EXCLUSIVE
Dancing with the Stars pro Lindsay Arnold's schedule is outrageously busy. Currently, she is boogie-ing as a pro dancer on DWTS with her partner, former NFL player DeMarcus Ware, and she's also serving as a mentor on the first season of Dancing with the Stars: Juniors. But between all that, Arnold found the time to chat with Romper this week, and she opened up about working on the two shows, her impressive career, and what's next for her — outside of the dance world.
If you're wondering how on earth Arnold is able to balance the schedule of being on two Dancing with the Stars shows at once, she has a little secret for you: Juniors was filmed in bulk over the summer. "We actually pre-taped the Juniors show, which has been extremely helpful. I think if it had been both of them going on at the same time live, I don't think any of us could have actually done it," Arnold tells Romper over the phone from Denver, where she flies from Los Angeles every week to practice with Ware. On Juniors, young stars are paired up with young professional dancers, and each duo is matched with a pro from DWTS as their mentor and choreographer. Arnold was lucky enough to be matched with Rylee Arnold, her 13-year-old younger sister.
"When I first initially found out they were doing a Dancing with the Stars: Juniors, my first thought was ... I gotta get my little sister on the show!" Arnold tells Romper. Arnold's three younger sisters are all dancers, and they have come to live tapings of DWTS many times, so the production team was very familiar with the whole family. Arnold asked the team if Rylee could audition, they brought her in, and she was cast as a pro dancer. The two sisters had a feeling they would get to work together, but they didn't find out until a week before filming started that they were officially paired up.
"When they finally told us that they were using her, it was so surreal. First of all, it was a dream for me to be on Dancing with the Stars in the first place, but then to look back and go, I did that with my youngest little sister — those are memories that we're gonna have forever," Arnold says. "We're gonna be able to show our kids that. It's just really cool that we have that bonding moment together."
And it's clear that the sisters had an amazing time working on Juniors, thanks in no small part to Rylee's partner Miles Brown, who stars in black-ish. And somehow, his schedule may have been even busier than the Arnold sisters' schedules this summer. "When I was working with the kids, our partner, Miles Brown, was actually filming on the set of black-ish every single day," Arnold says. "So we were over there all the time, basically just waiting for him to get any sort of free minute. And we'd practice on set for 10 minutes, and he'd go back to filming."
So now that Juniors filming is wrapped, Arnold is able to focus all her energy on the "grown-ups" version of the show. (Yes, that is what I'm calling Dancing with the Stars now that Juniors exists.) If you've been watching this season, you know that she and Ware are absolutely killing it. And that makes sense, considering how strong their friendship is. Working with Ware has "been amazing," Arnold tells Romper, adding, "From day one our friendship immediately kicked off. He is the nicest person ever and he works so incredibly hard, which has helped us solidify our relationship." And not only have the two developed an awesome bond, but Ware always brings 100 percent of his football-practice energy to the dance studio. "From day one, DeMarcus has been in this thing to win it. He gives me everything he's got, every rehearsal, and he wants to get better," Arnold says.
While all of Arnold and Ware's dances have been stellar so far, nothing compares to the routine they performed this past Monday for most memorable year week. Ware chose 2016, the year he won the Super Bowl with his team the Denver Broncos, because it was so special to have his family and children there. In the video package before the duo danced, Ware opened up about he and his ex-wife's struggles to create a family, explaining that they lost three children due to miscarriages and a stillbirth. A few years later, they adopted a baby girl, and two years later, she gave birth to a baby boy. "Having the opportunity to have my kids in the stands, it gave me the power to do things that I did, and that's why I'm doing Dancing with the Stars. To show them that they can achieve whatever they want to achieve," he told Arnold.
Then, the two performed a tango that Arnold choreographed inspired by his emotional story. In the last moment of the dance, the cameras zoomed in on Ware's face, and then zoomed out to reveal his two children hugging him. "That was the first week his kids were able to come to the live show … I was like, we've got to put them in the dance," Arnold tells Romper. "He was of course down with it, and his kids were super excited."
The routine was a huge success, earning the pair a 26 out of 30 from the judges — but that high score didn't come without hard work. "This past week I definitely felt pressure, because his story was so emotional, and he felt so strongly about it, and I wanted to make sure I did his story justice," Arnold says. "So the choreography process, I really put the pressure on myself, but I'm super happy with how it turned out, and so grateful that DeMarcus trusted me to do that on live television."
But dancing isn't all that Arnold's doing these days, and she explains she has a new project on the horizon.
"I am going to start doing some blogging, because I feel like that's a platform for me to show who I am. Not just from Dancing with the Stars, but show parts of my life," she tells Romper. "I'm looking forward to having some time to sort of open up those platforms and let people into me as Lindsay, not just as Lindsay from Dancing with the Stars."
Personally, I can't wait to see what she comes up with. But I hope she'll forgive me for saying that I'm especially excited to see what she's got up her sleeve for the rest of this season of Dancing with the Stars.