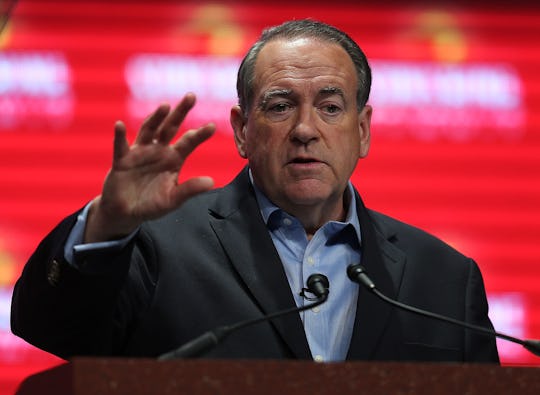 Joe Raedle/Getty Images
Mike Huckabee Calls Planned Parenthood Shooting "Domestic Terrorism," But Says It In No Way Represents The Pro-Life Movement
Following Friday's deadly attack at a Colorado Planned Parenthood, Mike Huckabee tweeted that the shooting was "domestic terrorism," and that it doesn't in any way represent the pro-life movement. The shooting on Nov. 27 left three dead and nine injured. Robert Lewis Dear has since been taken into custody and charged with the crime. In an interview with Brianna Keilar on CNN's State of the Union Sunday, Huckabee said that "regardless of why [Dear] did it, what he did is domestic terrorism." Huckabee continued:
What he is did is absolutely abominable, especially to those of us in the pro-life movement, because there's nothing about any of us that would condone or in any way look the other way at something like this.
Huckabee's use of the word "terrorism" in connection to the Planned Parenthood shooting is a first for many politicians, who seemed to shy away from speaking candidly about Friday's attacks until today. In fact, for much of the weekend, many Republican politicians had very little to say about the shooting at all. Mike Huckabee posted a campaign video on Friday following the news. Senator Ted Cruz offered condolences on Friday, tweeting, "Praying for the loved ones of those killed, those injured & first responders who bravely got the situation under control in Colorado Springs." And John Kasich tweeted support, too, writing that, "Senseless violence has brought tragedy to Colorado Springs. I pray for the families in mourning and have hope our nation can heal."
But calling the shooting "domestic terrorism" is a very big deal — namely because it is, by definition, terrorism. And it affects how the media and people from both sides of the aisle think and speak about shootings such as the one in Colorado Springs. Huckabee made sure to reiterate in his interview with CNN that the attack does not represent the pro-life movement, and actually hurts their cause. The shooter, Robert Lewis Dear, was arrested Friday night but considered himself a pro-lifer, allegedly saying to the arresting officers "no more baby parts," when they captured him.
Other anti-abortion groups have spoken out against the violence, as well. The Center for Medical Progress, for example, called Friday's attack a "barbaric killing spree." And on Sunday, several other Republican presidential candidates came forward to share their views, as well. Speaking on ABC's This Week With George Stephanopoulos on Sunday, Ben Carson said the incident is a sad byproduct of extremism. "Unfortunately, there's a lot of extremism coming from all areas," said Carson. "It's one of the biggest problems that I think is threatening to tear our country apart. We get into our separate corners and we hate each other, we want to destroy those with whom we disagree."
He continued:
If we can get rid of the rhetoric from either side and actually talk about the facts, I think that's when we begin to make progress. And, you know, a lot of people, when they don't have facts, when they don't have a good backup, that's when the rhetoric starts. That's when the name-calling starts.
Republican front-runner Donald Trump also weighed in on matters Sunday, while speaking to NBC's Chuck Todd. But he stressed that above all, he believes the issue here was mostly due to mental illness:
Well, this was an extremist. And this was a man who they said prior to this was mentally disturbed. So, he's a mentally disturbed person. There's no question about that.
Not much yet is known about Dear, the suspect behind Friday's shootings, though information is slowly trickling in. NBC News reports that those who knew him described him as "reclusive, glaringly eccentric, and anti-social." The 57-year-old suspect also purposely sought out places to live that were considered off-the-grid. The Associated Press reports that his latest home was a shack in North Carolina that had no electricity or running water. Beyond reports that Dear shouted "no more baby parts" during his arrest, a motive for the Planned Parenthood shootings has not yet been released to the public.
Image: Joe Raedle/Getty Images