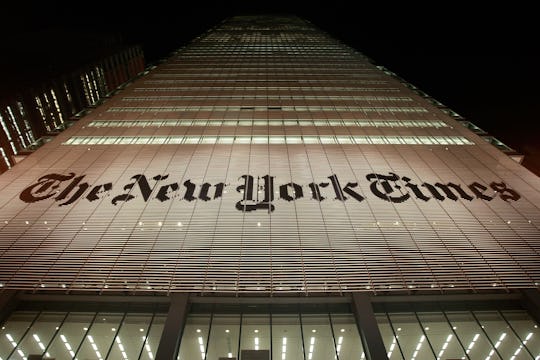 New York Times Op-Ed On Gun Control Has People Talking, Which Was Sort Of The Point
On Saturday, in the wake of multiple mass shootings across the country, the New York Times ran an op-ed about gun control on the front page of the newspaper. The editorial calls for stricter regulation of gun buying and an overhaul of our current laws. Gun violence and mass shootings have plagued the news cycle (as they always do, really) for the past few weeks, with mass killings at a Planned Parenthood in Colorado, the shooting spree in San Bernardino, and another shooting at a Walmart in Chicago on Thursday. The Times' editorial does not mince words:
The attention and anger of Americans should also be directed at the elected leaders whose job is to keep us safe but who place a higher premium on the money and political power of an industry dedicated to profiting from the unfettered spread of ever more powerful firearms. It is a moral outrage and a national disgrace that civilians can legally purchase weapons designed specifically to kill people with brutal speed and efficiency. These are weapons of war, barely modified and deliberately marketed as tools of macho vigilantism and even insurrection.
You can't really talk about gun control in America without inciting one or the other side. While the Times and even the New York Daily News have taken stances this week on gun control, there are many who believe that the freedom to purchase and carry a firearm is a right that shouldn't be regulated. Even several politicians passionately defend the Second Amendment. Michele Fiore, a Nevada congresswoman, posed with guns for her family Christmas card this week, ignoring tact and the victims of the San Bernardino shooting. It will not be an easy fight for reform. Even the responses to the Times' op-ed vary in scope.
Many opposed to gun control are writing the op-ed off as a biased, uninformed opinion. Others just don't think an editorial, especially in the New York Times, can really lead to any real change.
Just Not Impressed
Others are wow-ed that the Times would make such a big move.
The last time the Times ran an editorial on the front page was in 1920, when it fought the presidential candidacy of Warren G. Harding. Unlike a bad president, the gun epidemic is affecting Americans on a too-often basis. At least the Times' has opened the debate.
Image: Mario Tama / Getty Images