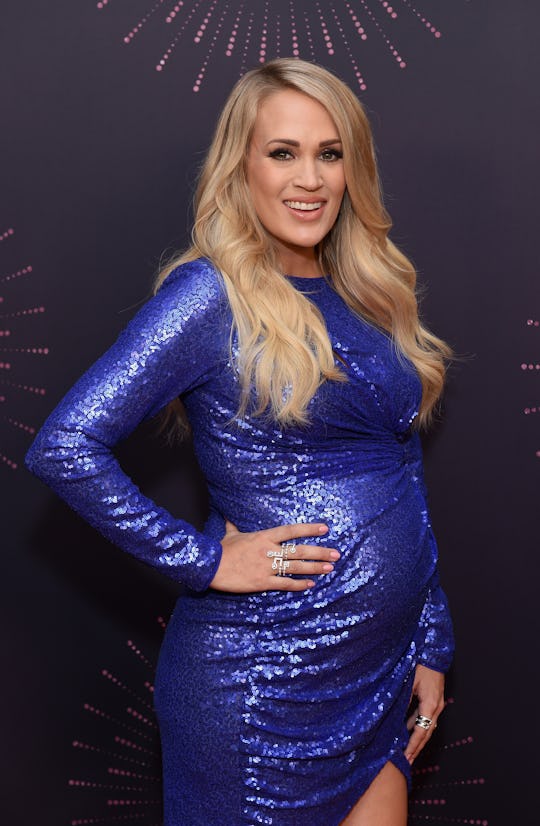 Jason Kempin/Getty Images Entertainment/Getty Images
People Are Shaming Carrie Underwood's "Soccer Mom" Selfie For A Very Obnoxious Reason
When it comes to my mom-style, I fall firmly in the "hot mess" camp: I usually just throw on whatever random clothes I can find about five minutes before we have to run out the door to catch the school bus, and the most primping I can squeeze in on a good day is running a brush through my hair. As a result, I give serious credit to any mom who can show up fully made up and styled, but on Instagram, people are shaming Carrie Underwood's selfie at her son's soccer game because she happens to look like her usual glam-goddess self, and honestly, it's so just ridiculous.
Underwood — who is currently pregnant with her second child — recently posted a selfie on her Instagram feed that she took at her 3-year-old son Isaiah's soccer game, according to Glamour, and in the caption she wrote that she was "officially a soccer mom this morning."
In the photo, she happened to look impossibly gorgeous, and in addition to her perfectly-styled mom-bun (which doesn't bear even the slightest resemblance to my own unintentionally-messy mom hair), she appeared to be wearing a full face of makeup, and looked adorably casual in pieces from her own fitness/lifestyle line, CALIA by Carrie.
The fact that Underwood looked perfectly polished at what appeared to be an early-morning kids sports practice probably shouldn't be all that surprising: she is a Grammy-winning superstar, after all, and looking preternaturally gorgeous is basically an unofficial part of her job description. What's more is that she also just seems to be one of those celeb moms who normally looks fully pulled together when she's out in public — her soccer mom selfie doesn't look much different from any of the other pics on her social media feeds.
But even though makeup-free IG snaps don't really appear to be Underwood's thing, there seemed to be quite a few people in the photo's comments section who felt that the star deserved to be knocked down a few pegs. Although many of her fans chimed in to praise her post, or call her "Soccer mom goals!" (which, yeah, she totally is), others were much less complimentary.
One such commenter wrote, "Real sport moms don't wear 20 [pounds] of makeup on their face to games and practices," while another remarked, "Holy makeup and painted on eyebrows." A separate commenter quipped that the only reason Underwood manages to look that good is because "she has 72 people working on her face," while another thought they'd chime in with the backhanded compliment, "Carrie, I'm going to be honest. You are so beautiful honey, you don't need all that makeup."
Unfortunately, it isn't exactly surprising that some people felt the need to leave judgmental comments on Underwood's photo — nothing seems to bring out the trolls like photos on social media. But here's the rub: there's also really no way she could have avoided the backlash.
If Underwood had posted a make-up free photo showing off under-eye circles from waking up a million times in the night to pee thanks to her pregnant-lady bladder, for example, the haters would have come at her for not putting any time into her appearance. If she'd shown up in sweatpants? There would have been critical comments blasting her for not dressing better when she's mega-rich and also has her own line of athleisure wear.
In other words, if you happen to be a woman, particularly a celeb, who has the audacity to share photos of yourself online, you're pretty much never going to be able to escape criticism.
Thankfully, for all the mean comments, there were also plenty who felt that Underwood has every right to do whatever she wants, and many also noted that this kind of petty mom-shaming is toxic for everyone.
One commenter wrote, "When did we star judging women for getting ready for the day?" and added, "being a mom is hard as hell." And another noted that regardless of how any woman looks in her photos, we should be supporting one another:
The negativity in the comments just baffle my mind. When are we as women going to start embracing, loving and supporting one another instead of constantly bashing? We need to stop. Who cares if you wear makeup or you don't to a game. Literally who cares? Why do you let it bother you so much to the point you bash another woman? Just stop. Let's instead start embracing and supporting one another.
What's more important though, of course, is that the entire point of Underwood's Instagram post is that she was just trying to enjoy getting to watch her little boy play soccer — and she even joked about how he'd scored a goal for the other team (#3yearoldlife). It's frustrating to think that supporting her son could earn her snarky comments, but even more so when you consider that she seems to only recently have emerged from what had been quite a difficult rough patch in her personal life.
For one, she revealed in 2017 that she'd suffered a serious fall that left her needing surgery and a ton of stitches, according to People, which must have been awful. But earlier this year she also opened up about the struggle she faced trying to get pregnant again after multiple miscarriages. These days, she's thrilled to be expecting a sibling for Isaiah, and she has also returned to making music and doing what she loves — isn't she deserving of being cut a little slack?
It might be easy to pass judgment on female celebs who somehow seem like they should be immune to public criticism. But let's be honest, Underwood is still also just a regular mom like anyone else. And we'd be doing women everywhere a big favor if we could finally learn to let go of the criticism, and let moms just do whatever is right for them.