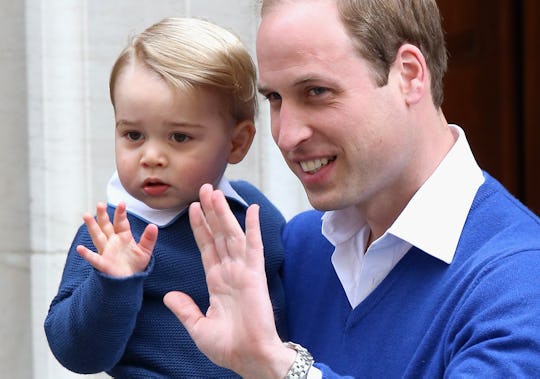 Chris Jackson/Getty Images Entertainment/Getty Images
Photos Of Prince William & His Kids Show The Sweet Bond He Has With His Royal Children
Prince William, Kate Middleton, and their children Prince George and Princess Charlotte are quite the picturesque royal family. The couple has found a way to honor the traditions of the monarchy (for example, dressing fancy and conservatively) while still living very much in the 21st century (chronicling their family's milestones and philanthropic efforts on Instagram). That being said, the whole 21st century-aspect of the monarchy has graciously provided fans with endless photos of the Duke and Duchess of Cambridge with their children. In particular, photos of Prince William and his kids give people a unique glimpse into the future king's parenting style, and they also say a lot about his bond with each of his children.
The day the couple's first child, Prince George, was born, the new family of three greeted the public from the steps of the hospital. Photos of the appearance were wildly circulated, with many fans excited to catch a glimpse of the newly-born third-in-line to the British throne. Not to mention, people were undoubtedly excited to witness Middleton and Prince William's first moments as parents.
Perhaps just as notable as the photos of the new family were the ones of Prince William carrying Prince George to the car from the hospital, and then driving his wife and their son back to Kensington Palace.
A new parent (typically, the one who did not just give birth) often straps their kid into the car for the first time after they're born, but it was definitely a bit surprising to see Prince William do it, considering his royal status. He could have easily delegated that task to someone else (or at least done it in private), but he opted to do it the same way all other caregivers who welcomed children at that hospital have to do it. Despite his royal status, it's clear that he opted to give his son a taste of regular life right off the bat. Not to mention, it's common for first-time parents to be nervous on their first day with a new baby, but Prince William honestly looked pretty calm.
Since then, many photos of the father and his son have emerged. Pictures of Prince William taking Prince George to his first day of school in September 2017 went super viral. Middleton couldn't join them on Prince George's big day, as she was pregnant and suffering from hyperemesis gravidarum, aka severe morning sickness. The first day at a new school can be nerve-wracking for children, and based on photos of Prince William introducing his son to his new teacher, it's clear that Prince George's comfort levels are very important to Prince William.
Having two kids aged 4 and under is, well, a lot. In a series of photos of the royal family heading to board an airplane last year, both Prince George and Princess Charlotte appear to have been a little restless.
Photos showed both parents bending down to their kids' eye level, likely checking in with them — or perhaps trying to keep them from throwing a tantrum in front of the cameras. Either way, it's nice to see Prince William doing something most parents have to do every time they take their kids out in public.
In 2016, Prince George had the honor of meeting President Barack Obama, and President Obama had the honor of meeting a pajama-clad Prince George. Prince William joyfully looked on during their interaction, keeping an eye on his son as he shook hands with Obama.
At less than 2 years old, Prince George attended his little sister's Christening at a church in England. A photographer captured a moment outside the church where Prince William comforted his crying son by crouching down to talk to him and holding him. It's sad to see a photo of Prince George crying, but it's nice to see how sweetly his dad was able to calm him down.
Many photos of Prince William and Prince George show the father and son holding hands. Either Prince William is afraid of his son running off, or the two have a close bond!
In fact, scrolling through photos of the royal foursome reveals that on most family outings, Prince William holds Prince George's hand, while Middleton carries Princess Charlotte. Perhaps that's the way all four of them prefer things — but considering Middleton usually wears heels (and that she's currently pregnant with the couple's third baby), perhaps it's time for them to swap?
Not to mention, it will be interesting to see how the family's typical lineup changes when a third baby is added to the mix. Stay tuned!
Check out Romper's new video series, Bearing The Motherload, where disagreeing parents from different sides of an issue sit down with a mediator and talk about how to support (and not judge) each other's parenting perspectives. New episodes air Mondays on Facebook.