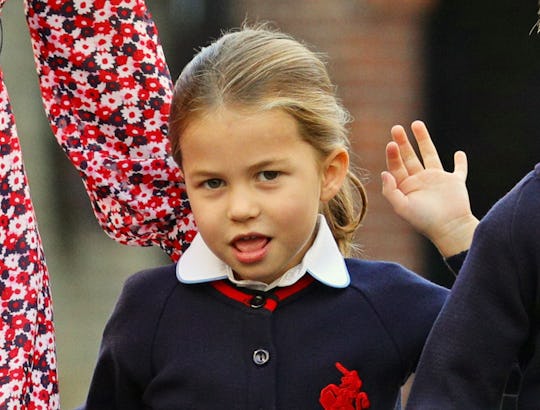 WPA Pool/Getty Images Entertainment/Getty Images
Celebrate International Day Of The Girl With 12 Queenly Photos Of Princess Charlotte
The odds are against Princess Charlotte ever becoming Queen. She is fourth in line for the throne after her grandfather Prince Charles, father Prince William, and older brother Prince George. If she were to become Queen, it would perhaps mean something tragic has happened and nobody wants that. But just because she won't be the Queen of England doesn't mean she's not already regal. As the world celebrates International Day of the Girl, let's all take a moment to enjoy these photos of Princess Charlotte being a total queen. They prove she doesn't need the crown — as far as she's concerned, she's already wearing one.
Princess Charlotte already made history as the first girl in the British monarchy to hold her place in line for the throne after another male heir was born after her, her 1-year-old brother Prince Louis. Traditionally speaking, 4-year-old Princess Charlotte would have been knocked down to fifth in line for the throne after Prince Louis' birth, behind her baby brother and 6-year-old Prince George. But, as the whole world should have known, Princess Charlotte is not the kind of girl to be ousted for a boy. The 2013 Succession To The Crown Act did away with the rule... just in time for Princess Charlotte to be born in 2015. Coincidence? I think not.
The world knew she was coming and that she would be a girl who keeps her place in line, no matter what that line might be leading towards. And these photos prove that just.