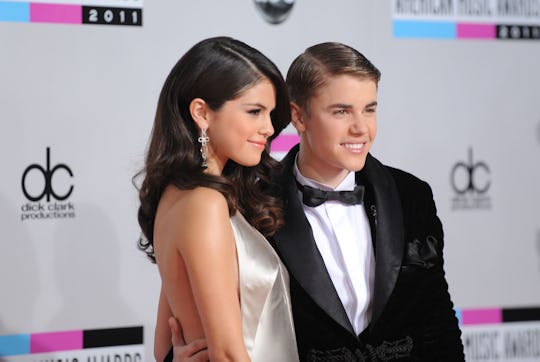 Jason Merritt/Getty Images
Photos Of Selena Gomez & Justin Bieber, To Bring You Back To Happier Times
On Feb. 15, the music world will come together and The Staples Center will be packed with the crème de la crème of pop music, but that's not what people are talking about. Justin Bieber and Selena Gomez will both be performing at The Grammys as well. Of course, they're not together anymore. But that doesn't meant we can't celebrate with photos of Justin Bieber and Selena Gomez, you know back from when they were together and we all believed in love.
Sure, it's exciting that LL Cool J is hosting the 2016 Grammys and, yes, the list of people performing at the 2016 Grammys is impressive. From The Eagles to a David Bowie Tribute by Lady Gaga, the set list is Coachella's wet dream. But since both Bieber and Gomez will be performing, this Grammy Awards is a horse of a different color.
This won't be the first time the ex-couple will be in the same room together, but the thought of the two long lost lovers sharing a stage (granted, at different times) is taking us back. Way, way back. Back to a simpler time, when Bieber and Kourtney Kardashian didn't hook up, Biebs didn't have neck tattoos, and riding a four wheeler with your significant other was just stupid cute.
Gomez has made it clear that she has no intention of taking Bieber back, but that doesn't keep The Biebs from posting "throwback" pictures of the two together via social media from time to time. Of course, it's probably not wise to assume to know the complicated (not to mention, private) intricacies of someone's romantic relationship using Instagram or Twitter or much of anything else, but I'd say someone is thirsty for Justin and Selena, Take 2.
So, in the spirit of eternal optimism and a belief in true love, here are some pictures of the once-happy couple. They might not be going to the 2016 Grammy Awards together, but that doesn't mean we can't continue to dream.