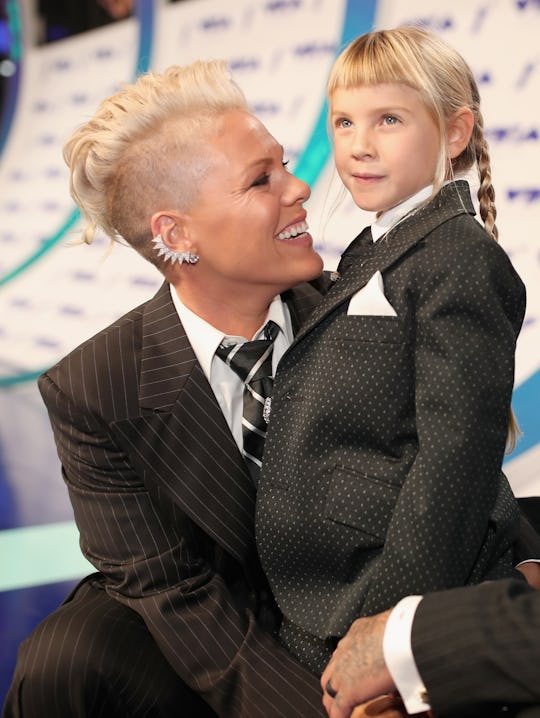 Christopher Polk/Getty Images Entertainment/Getty Images
Pink's Dating Advice For Her Daughter Is *All* About Empowerment
Every time Pink talks about her kids, it makes me wish that she could parent me, too. She gives such great advice all the time, or at least it seems that way. And it's probably not too surprising that Pink's dating advice for her daughter Willow is so spot-on — even if the 6-year-old is still probably too young for dating. But obviously not too young to think about it, of course.
The 38-year-old mother of two recently told Cosmopolitan that Willow asked her how many boys "she could have at once," you know, just to keep her options open. Pink didn't skip a beat. According to the magazine, as E! News reported, she told her daughter:
Excuse me? Probably none of them because they won't deserve you. They have to be kind, respectful, they have to be chivalrous, they have to be good to their moms, they have to be good looking, they have to be funny.
Pink definitely has the right idea about setting her daughter up for success. And not getting too caught with details. While Willow seems to be making room for as many boys as possible in her life, just last week Pink said that her daughter told her she wanted to "marry an African woman." In response, Pink decided that she would raise her kids gender neutral.
Predictably, people flipped their lids when they heard the news, not understanding how Pink could "do" that to her kids. On social media, conservatives accused her of living in a "clown world," child abuse, and even accused her of forcing a "sexual ideology" onto her kids. All of which is insane, if not just downright wrong.
Gender identity has nothing to do with sexual orientation, so people should educate themselves before attacking the Beautiful Trauma singer. If anything, making a conscious choice to raise her children without boxing them into traditional, fabricated gender roles or stereotyping is doing them a service.
Not only will Willow and baby Jameson, hopefully, feel free to be themselves, but they likely won't grow up to be as judgmental as anonymous trolls on social media, either.
Pink told People in 2015 that raising kids was "healing," explaining:
I have lived a lot of life in a very short time, and you get hardened a little bit — you get jaded, you build up walls. And when you see this little kid, and you get to watch them through infancy to toddler to little person, it's amazing. You see how you were.
She added, "When you watch this bundle full of love and light that's untarnished and untainted by heartache and any of the numerous things that change you, it's very healing. It's a miracle."
Pink, who is also a UNICEF ambassador, is also dedicated to ensuring that her kids have an idea of what's going on in the world. "I want [Willow] to be a global citizen. She's very aware of the fact that not everybody has a bed to sleep in at night and food on their table and coats on their back," she said in the same People interview.
Of course, it's not easy telling a tiny person about all the turmoil going on, all the time. "It's hard for her to understand. I want her to be 4, you know? I don't want to give her anxiety issues," the singer told People in 2015.
Who knows, Willow might actually be a bit of thinker if she's already calculating how many boys she can date at one time or if she can learn how to make "African food." But with Pink and father Carey Hart at her and her baby brother's side, I think it will all work out just fine in the end, no matter who or how many people she chooses to date some day.
Check out Romper's new video series, Romper's Doula Diaries:
Watch full episodes of Romper's Doula Diaries on Facebook Watch.