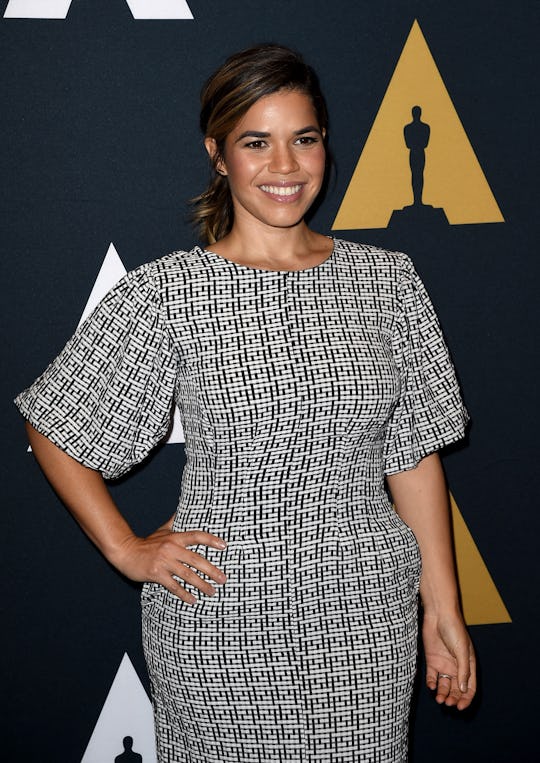 Kevin Winter/Getty Images Entertainment/Getty Images
Pregnancy Has Drastically Affected America Ferrera's Exercise Routine, & It's Really Relatable
America Ferrera is a big fan of exercise. The actress, who is currently expecting her first child with husband Ryan Piers Williams, has discussed her love of SoulCycle, boxing, and competing in triathlons on multiple occasions. However, pregnancy has seriously affected America Ferrera's exercise routine — and she recently opened up about how her regimen has changed since learning she was expecting.
"I had to slow down a little bit," Ferrera told Us Weekly recently at The North Face's Make Movements Launch. "I have a lot of friends who are pregnant right now, which is really lucky for me because we take really long, slow pregnant lady walks ... We'll just hike a little mountain and we're done." In addition to "pregnant lady walks," Ferrera told the outlet that she's also gotten into prenatal yoga, which has been known to relieve stress, improve breathing techniques, improve sleep, increase flexibility in preparation for childbirth, and more.
As Us Weekly notes, Ferrera was in the midst of training for a third triathlon — it would have been her third — when she found out she was pregnant. Despite that, she was happy to take a step back and transition to a lighter routine.
At the event, she also opened up to Us Weekly about how slowing down has been a healthy experience for her, telling the magazine:
It's been really good for me ... I'm somebody who likes to do a lot, sometimes to my own detriment, and this has forced me to slow down in a really healthy, good way and really be kinder to myself . . . and let this be a time when my body is doing something completely new and unique and letting it just do that.
Ferrera is really passionate about exercise, even having called working out an emotional experience. Last year, she told People:
Our little bodies — the small little space that we inhabit for the entirety of our lives — everything we feel, everything we experience, everything we do is contained inside of our bodies. And to be challenged physically is to have to meet all of your experiences ... That's why, personally, working out has always been an emotional experience for me.
Her relationship with exercise inspired her to compete in two triathlons, along with her husband. She wrote an essay about her first triathlon in late 2016 for the New York Times, where she opened up about the challenging training period. She then ran her second triathlon in April 2017.
Despite what some may think, exercising while pregnant is generally perfectly safe. In fact, according to the American Congress of Obstetricians and Gynecologists (ACOG), it's encouraged. ACOG's website explains:
Physical activity in pregnancy has minimal risks and has been shown to benefit most women, although some modification to exercise routines may be necessary because of normal anatomic and physiologic changes and fetal requirements.
But, very importantly, ACOG recommends consulting with your physician before leaping into an exercise regimen while pregnant, to make sure there is no reason to avoid exercise.
All that being said, every expectant mother is different. While Ferrera's body told her to lighten her workout routine, Khloé Kardashian, who just gave birth to her first child, chose to keep up her usual workouts. After sharing videos of herself intensely working out during her pregnancy, some criticized Kardashian for them. She clapped back at her haters, explaining that her workouts were doctor-recommended. This just goes to show the importance of listening to your body and communicating with your doctor while pregnant.
Ferrera and Williams announced that they were expecting their first child back on New Year's Eve, so her due date is likely in the next month or two. Stay tuned!
Check out Romper's new video series, Bearing The Motherload, where disagreeing parents from different sides of an issue sit down with a mediator and talk about how to support (and not judge) each other's parenting perspectives. New episodes air Mondays on Facebook.