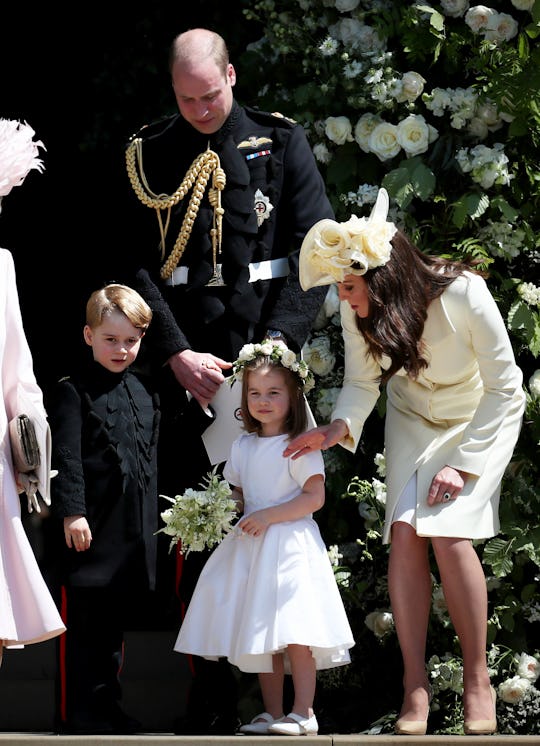 WPA Pool/Getty Images Entertainment/Getty Images
Prince George & Princess Charlotte Confirmed For Royal Wedding Party This Weekend
It seems like just yesterday that the Duke and Duchess of Sussex, Prince Harry and Meghan Markle, cheesed for the cameras alongside their little pageboys and bridesmaids. But that was five whole months ago — meaning just enough time has passed for the royal family to throw another royal wedding. Prince George and Princess Charlotte are officially set to be a pageboy and a bridesmaid at Princess Eugenie of York's wedding this weekend. Here's all the information that has been shared about the bridal party at the upcoming nuptials.
This Friday, Oct. 12, Princess Eugenie will marry her longtime bae, Jack Brooksbank, at St George's Chapel, The Standard reported. On Wednesday, Buckingham Palace confirmed that Prince George and Princess Charlotte of Cambridge will be part of the wedding party, according to The Telegeraph. Unfortunately, Prince Louis of Cambridge is still too young to join in on the festivities, but hopefully he'll be walking by the time the next royal wedding rolls around.
There is no doubt that Princess Charlotte will once again lead the pack of pageboys and bridesmaids. At Meghan and Harry's wedding, Princess Charlotte made headlines for her confidence and certainty. A wedding guest even reportedly overheard Princess Charlotte telling a fellow bridesmaid, "No you can't go yet. We have to wait until we are asked," People reported back in May. Too cute!
Not only is Charlotte familiar with the role of most-royal-bridesmaid, but Eugenie and Jack's wedding is at the same venue as Meghan and Harry's wedding, so she's also well-acquainted with the lay of the land.
According to Elle, it is a British tradition for brides and grooms to appoint children to their wedding parties. That's a pretty far cry from the typical mix of college friends, high school friends, coworkers, and that one cousin that comprise groups of bridesmaids and groomsmen in America. Meghan and Harry followed this tradition very closely — in addition to George and Charlotte, they had eight other children, all of whom were children of their friends, serve as pageboys and bridesmaids.
Princess Eugenie and Jack have chosen eight children for their wedding party, as opposed to Meghan and Harry's group of 10. Serving as bridesmaids alongside Charlotte will be Savannah Philips, 7, Isla Philips, 6, Mia Tindall, 4, and Maud Windsor, 5, according to The Telegraph. The pageboy crew is much smaller — Louis de Givenchy, 6, will be the only pageboy besides George, Vanity Fair reported. Additionally, Eugenie's cousins, Lady Louise Mountbatten-Windsor, 14 and James, Viscount Severn, 10, will serve as special attendants, BBC added. Like Princess Eugenie, the two nobly-named kids are grandchildren to Queen Elizabeth II and Prince Philip, Duke of Edinburgh.
Furthermore, Princess Eugenie has appointed her sister, Princess Beatrice of York, as maid of honor, and Jack asked his brother, Tom Brooksbank, to be the best man, the Royal Family announced on Instagram Wednesday. Please enjoy the following adorable throwback pictures that the family's official Insta account posted alongside the announcement:
If you have been crossing your fingers that Eugenie and Jack's wedding would be at a more reasonable hour than Harry and Meghan's... sorry, there's no good end to that sentence. The ceremony will begin at 11:00 a.m. local time in London this Friday, according to Express. That is 5:00 a.m. ET and 2:00 a.m. PT, unfortunately, for those in America. The wedding will be available to watch live on TLC beginning at 4:25 a.m. ET this Friday, and the network will air a re-broadcast of the affair at 7:25 a.m. ET, according to TLC's website. If you're hoping to see Prince George and Princess Charlotte in action at the royal wedding, I recommend getting a good night's rest tonight.