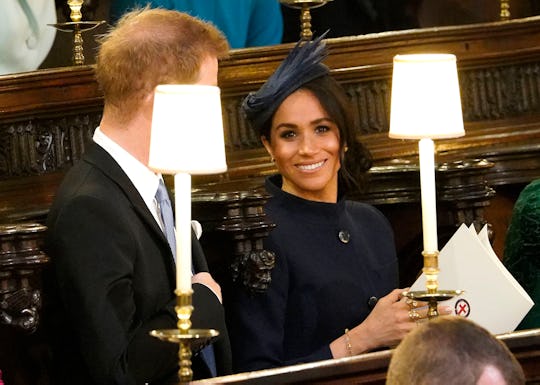 WPA Pool/Getty Images Entertainment/Getty Images
Prince Harry & Meghan Markle Looked So Dapper & Happy At Princess Eugenie's Royal Wedding
The aisles of St. George's Chapel at Windsor Castle have received a lot of foot traffic this year thanks to two royal weddings. First, in May, Prince Harry, Duke of Sussex, and Meghan Markle, Duchess of Sussex, exchanged their vows in the church. And on Friday, the royal couple made their way back to the site to watch Prince Harry's cousin, Princess Eugenie, marry her longtime love, Jack Brooksbank. Not surprisingly, Prince Harry and Meghan Markle at Princess Eugenie's wedding drew wild applause from members of the public who were invited to the grounds of Windsor Castle to celebrate the union.
As expected, Prince Harry and Markle arrived to Princess Eugenie and Brooksbank's wedding Friday morning in style, arriving in navy blue Range Rovers. The Duchess of Sussex wore a regal all-navy Givenchy coat dress and fascinator hat by London-based designer Noel Stewart, according to ABC News. The Duke of Sussex, on the other hand, had on a stylish classic morning suit. But the royal couple took great care not to upstage Princess Eugenie, youngest daughter of Prince Andrew, Duke of York, and Sarah Ferguson, Duchess of York, on her wedding day, and entered St. George's Chapel through a side entrance, according to Cosmopolitan.
Prince Harry and Markle's return to St. George's Chapel on the grounds of Windsor Castle comes five months after the couple tied the knot at the same church. Their royal wedding was one of the most highly-anticipated events of the year, which millions of people tuned into the ceremony either online or on their televisions.
Because both weddings have taken place so close together, people couldn't help but wonder about comparisons between the two ceremonies. Both ceremonies were star-studded events, which a host of celebrities among the wedding guests. But a friend of Princess Eugenie and her first cousin, Prince Harry, told People recently that there is "zero competition" between the royal couples. The insider said, according to People:
It is complete love, and there is room for all of them.
And that's obvious not only by the way Prince Harry and Markle entered the wedding venue, but also their mannerisms during the ceremony. The newlyweds were all smiles, and seemed genuinely happy for Eugenie and Brooksbank. The same goes for Eugenie's other cousin, Prince William, Duke of Cambridge, and his wife, Catherine, Duchess of Cambridge, who also snuck into St. George's Chapel in what many have speculated was an attempt to not cause a stir, according to USA Today.
It's wonderful to see such love among the British royal family members. It's so easy to become competitive, especially when you come from a high-profile brood, but the royal couples instead chose to support and encourage each other on such an important day.
And it really was a day full of love. Princess Eugenie and Brooksbank seemed absolutely smitten with each other, trading glances and smiles during the ceremony. Brooksbank even mouthed to Eugenie that she looked "perfect" as she walked down the aisle, according to The Telegraph. Everything seemed perfect.
Congratulations to the newlyweds!