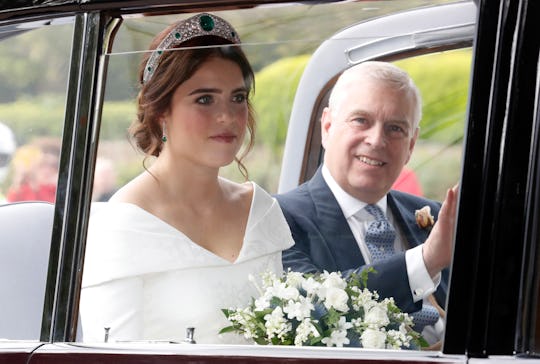 Chris Jackson/Getty Images Entertainment/Getty Images
These Photos From Princess Eugenie's Royal Wedding Will Make Your Heart Flutter
After months of anticipation, it's finally here: The second royal wedding of the year! Princess Eugenie, youngest daughter of Prince Andrew, Duke of York, and Sarah "Fergie" Ferguson, Duchess of York, is marrying her long-time love, drinks executive Jack Brooksbank, after being together for more than seven years. Their relationship is one for the ages, and photos from Princess Eugenie's wedding capture all the love they have for each other.
More than 800 guests looked on as Eugenie and Brooksbank exchanged their vows Friday morning at St. George's Chapel at Windsor Castle — the same location where her cousin, Prince Harry, Duke of Sussex and Meghan Markle, Duchess of Sussex, married in May in the first royal wedding of the year. Following Prince Harry and Meghan's lead, the royal couple also invited another 1,200 members of the public to the grounds of Windsor Castle to witness their royal union.
And, as the photos show, Princess Eugenie and Brooksbank's wedding ceremony was just as lavish and high-profile as expected. In addition to members of the royal family, Eugenie's close friends, singer Ellie Goulding and model and actor Cara Delevingne, were among the celebrity guests in attendance, along with singer Ricki Martin, and model Kate Moss.
Princess Eugenie, who was given away by her father, Prince Andrew, looked gorgeous in an elegant low-back wedding gown designed the British-based label Peter Pilotto, according to the Royal Family blog. Brooksbank, for his part, looked dapper in a traditional British morning coat with a navy blue waistcoat, according to Town & Country.
The royal couple exchanged loving looks during the ceremony, and they both seemed absolutely smitten. That's not surprising, of course, when you consider how the pair describe their romance. During an interview with This Morning, Eugenie said it was "love at first sight," while Brooksbank called his love "this bright shining light."
Princess Eugenie, who is ninth in line to the throne, first met Brooksbank while skiing in Switzerland in 2010, according to the BBC. That is, of course, fitting, as Eugenie is an avid skier and has been since she was a kid. They were introduced to each other by friends, according to People, and have been inseparable ever since.
Look through the photos, and you can see that their deep love was definitely on display during their wedding day. After all, Princess Eugenie couldn't help but sneak looks at her husband throughout the ceremony, her eyes bright and a smile on her face.
The royal ceremony at St. George's Chapel ended with a procession through the grounds of Windsor Castle. A reception will take place on Friday night at Royal Lodge in Windsor, with a second soiree taking place at the same site on Saturday, Oct. 13, that will feature a fairground and food stalls, according to People. In other words, the party doesn't stop.
But in all seriousness, this has been one exciting year for the royal family. Two weddings and a royal birth have sure kept everyone busy. Imagine what 2019 will bring.