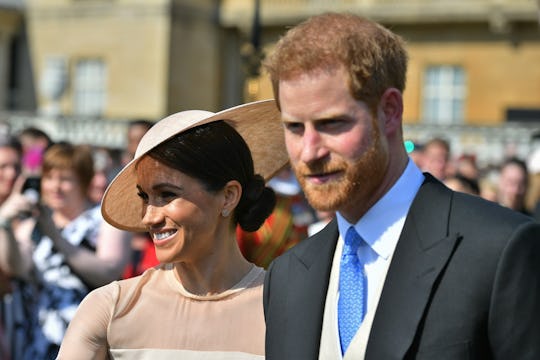 WPA Pool/Getty Images Entertainment/Getty Images
Here's When You Can Expect To See Prince Harry & Meghan Markle Again
The royal wedding was probably the biggest event of the decade and now that it's come and gone, it's hard to deal with the absence of news surrounding the adorable couple. But knowing Prince Harry and Meghan Markle's upcoming royal appearances will give royal spectators something to look forward to while watch the newlyweds' wedding footage on repeat.
As you may recall, the new Duke and Duchess of Sussex actually made their first public appearance since tying the knot on May 22, a mere three days after their wedding. But since then, the couple hasn't really been around all that often. Which, ya know, is kind of understandable. After all, both Markle and Prince Harry have had a million and one eyes on them over the past few months, so it would make sense that they'd want some privacy as they settle into married life.
However, that doesn't mean that the Duke and Duchess of Sussex won't be making another public appearance anytime soon. While there's no official itinerary on the books yet for the couple's upcoming appearances, there's at least one event this summer that they're expected to attend, and it just so happens to be only a couple of weeks away. So not to worry y'all, Markle and Prince Harry will be back soon.
While they haven't been spotted out in public since their appearance at Prince Harry's father 70th birthday celebration earlier in May, it would be highly unlikely that they wouldn't show up to the annual Trooping the Colour celebration in honor of Queen Elizabeth II's official birthday. The event is expected to take place this year on June 9, according to People, and Markle and Prince Harry are expected to both be in attendance.
It's pretty unlikely that the two will go out in public again before then, which, again, is understandable. Both Markle and Prince Harry have been really busy lately, and hopefully they're enjoying their honeymoon (or at least their honeymoon phase) right now before diving right back into their royal duties. According to ABC News, the couple might be spending some quality alone time in Africa, where they've been before and a place that seems to hold a special place in their hearts. Or they could be in Canada for their honeymoon, which TMZ reported was a possible option after the couple reportedly had to scrap travel plans in Africa due to security concerns.
Really, though, nothing has been confirmed and it shouldn't have to be. Markle and Prince Harry will spend the majority of their life out in public, so it's more than understandable that they'd want and need a bit of privacy right now.
Aside from the upcoming June outing, the couple reportedly already has plans for the fall, according to Express. While it's unclear what they'll be doing for the rest of the summer, Express reported that "it has been confirmed Prince Harry and Meghan Markle will visit Australia for the 2018 Invictus Games in October." And it's quite fitting, since it was the 2017 Invictus Games when the couple made their first real official appearance together.
So now that everything has calmed down a bit, it's nice to know that Markle and Prince Harry are probably enjoying some time together as newlyweds, wherever the might be. Though their attendance has not confirmed, it's a safe bet that they'll be at the Trooping the Colour parade on June 9. The event is kind of a big deal, and it would be kind of odd if they weren't there for the queen's big day. Until then, though, sit tight fellow royal watcher, because the new Duke and Duchess of Sussex (probably) aren't going to be coming around before then. But after that, as Prince William and Kate Middleton have proven, they'll definitely be attending a lot more events, probably looking just as fabulous as ever.