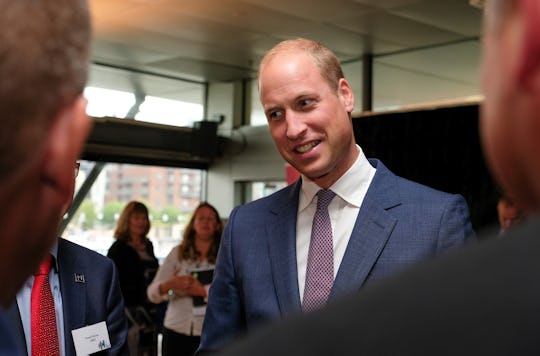 Ian Forsyth/Getty Images Entertainment/Getty Images
Prince William Brags About Getting Sleep While Away From His "Wonderful" Kids
From cuddles to chubby cheeks to cute clothes, there are plenty of perks when it comes to raising a newborn. Conversely, any parent knows that there are also plenty of downsides to caring for an infant — for example, being woken up multiple times a night by your screaming, crying, hungry, pooping baby. And just like every other parent in the world, Prince William and Catherine, Duke and Duchess of Cambridge know that downside all too well. While on a work trip this week, Prince William expressed his excitement about getting uninterrupted sleep while away from his kids, and that is definitely a feeling that new parents can relate to.
On Tuesday, Prince William spoke at the British High Commissioner's reception in Namibia, Africa, ET Online reported. "I'm delighted to be visiting Namibia for the first time. I'm only sorry that my wife Catherine is not able to join me," he told the crowd, according to Harper's Bazaar. "She is immensely jealous. Particularly as I'm looking forward to a few good uninterrupted nights sleep this week away from my wonderful children." Ooooh, that does sound nice. Sorry, Kate!
Though fans may be wondering why Kate wasn't offered an invite to Namibia, it does make sense that she did not accompany her hubby on this trip. Christina Reeves, a royal expert for OK! magazine, said that the United Kingdom government planned this as a solo trip for the Duke, as he is the President of United For Wildlife and Tusk Trust.
Reeves further explained to OK! magazine:
Typically William has always worked solo in his fight against illegal wildlife trade, which is why we wouldn't see Kate join him on a trip like this or him joining Kate on her own personal projects, such as promoting the importance of perinatal, maternal and children's mental health.
That being said, Kate may have her own break from the kids pretty soon. On Wednesday, Kensington Palace announced that Kate will return from her maternity leave next Tuesday, Oct. 2. "The Duchess of Cambridge will visit the @SCTrust Forest School and Wildlife Garden at Paddington Recreation Ground on Tuesday 2nd October," Kensington Palace tweeted. The Sayers Croft Trust is a charity that works to involve disadvantaged adolescents with caring for the environment, according to its website. Unfortunately for Kate, the charity is based in Surrey, England, just about a one-hour drive from Kensington Palace, so she most likely won't get a night off from the royal tykes. But now that her maternity leave is over, perhaps a long weekend away is in order for the Duchess.
Kate and Prince William welcomed their third child, Prince Louis of Cambridge, on April 23, 2018. In addition to 5-month-old Louis, the couple are also parents to Prince George of Cambridge, 5, and Princess Charlotte of Cambridge, 3. Hopefully the two elder royal kiddos are sleeping through the night by now, because Prince William's comments imply that Prince Louis is not yet doing so. But luckily, that is totally normal for a 5 month old.
Mylee Zschech, a Child Sleep Consultant for Little Big Dreamers, told Romper back in May that many babies can make it through the night without a feeding by the time they are 6 months old, and that most babies should be able to by the time they are 9 months old. Danny Lewin, the Children's National Medical Center's associate director of pediatric sleep medicine, told Parents that once babies are 6 months old, most should be able to sleep for at least eight hours.
Looks like even though Kate missed out on this trip, the near future holds quieter nights for her and Prince William.